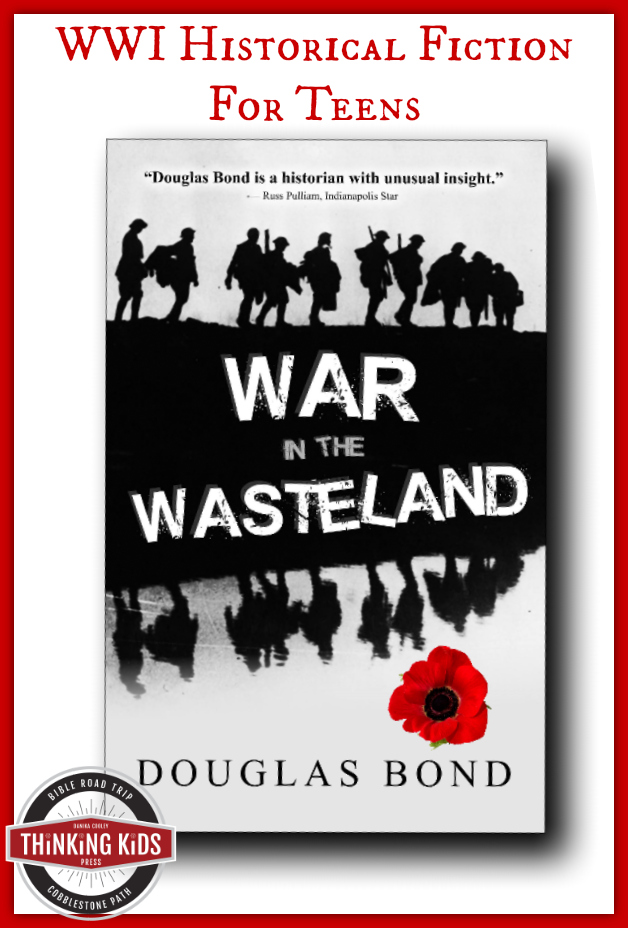 World War I was a hideous war, fought by young men for over four years, shooting at each other from opposing trenches in the mud. Both sides shelled the other trenches on a daily basis, and the resulting trauma of enduring being regularly bombed while protected by only a mud pit created the condition labeled "shell shocked". When either side could no longer tolerate the stand off, one army or the other would be ordered to run at the opposite side, and they'd be slaughtered as they tried to reach the opposite trenches.
C.S. Lewis, the notable Christian theologian and apologist, entered the war voluntarily as a junior officer in 1917 at the age of 18 while attending Oxford University. An Irishman and a fan of Norse and Greek mythology, Lewis had been an atheist since the age of 15. He would not come to know Christ as his Lord and Savior until 1929.
In War in the Wasteland (Inkblots Press, 2016), Douglas Bond deftly weaves a tale that tells the story of both life in the trenches, and of Jack (C.S) Lewis' time there. Mr. Bond is one of my favorite storytellers, theologians, and historians; he is the author of more than 25 books.
The novel focuses on the story of fictional Nigel Hopkins, an 18-year-old drafted for war, and his dog Chips. There is a side story involving Elsie Fleming, another 18-year-old serving in the Women's Auxillary Army Corps. The lives of Nigel, Jack, and Elsie intersect as Nigel serves under Jack's command, and Elsie nurses them both in a brief respite from direct combat when one contracts Trench Fever and another Trench Foot. There is comradery and compassion, but no blatant romance. In fact, Elsie several times reflects on her father's wise warnings of the "romantic" dangers of war.
War in the Wasteland depicts the tension of one side versus the other. Readers are immersed in the trenches and headquarters of the British and French allies. There are names (rather benign, yet not without teeth) applied to the Germans. Yet the Germans are several times humanized. The reader comes to see them as young men who also have families, are fighting for their country, and who often worship the same God.
War in the Wasteland is an exciting, theologically rich historical read. War is depicted honestly and brutally, without glorification or gore. There are several scenes in the 282-page book that involve Jack Lewis debating the existence and goodness of God with another junior officer while waiting out a shelling attack. I think one of the best ways to introduce students to theology and apologetics is to have them wrestle with it through story. I appreciate that Douglas Bond never leaves kids wondering what the truth is, but neither is he preachy.
War in the Wasteland is another gem from Douglas Bond. This is a novel perfect for every home library. Douglas Bond's books are my favorite to review–and to read.
War in the Wasteland would coordinate well with studies involving
The 20th Century
World War I
France
C.S. Lewis
Modern Warfare
Atheism
Apologetics
I want to thank Douglas Bond and Inkblots Press for providing me with a copy of War in the Wasteland in return for my honest review.
You can purchase War in the Wasteland at
Amazon: War in the Wasteland
A Signed Copy from Douglas Bond: War in the Wasteland
Other books for older students reviewed on Thinking Kids:
Thinking Kids Book Review Indexes
Thinking Kids Pinterest Book Boards
Join the newsletter
Get the Family Prayer Box Project FREE!
Teach your children to pray with this fun project that includes 7 printable sets!