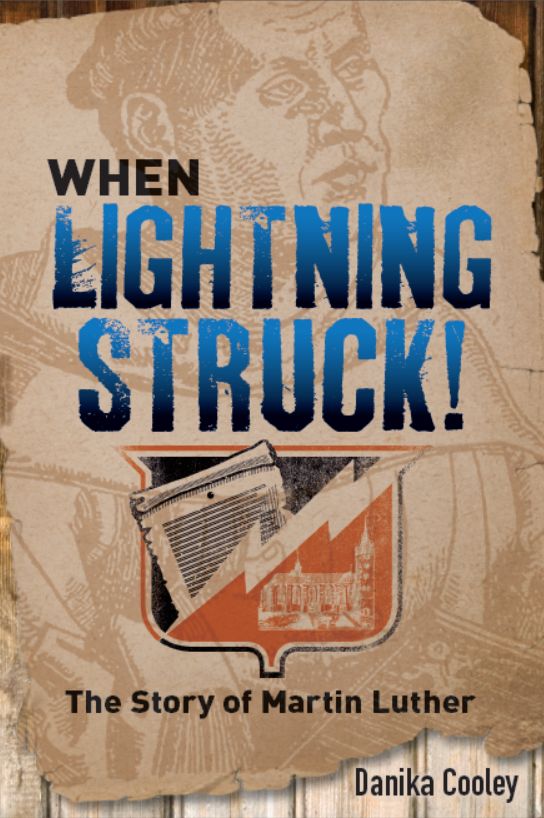 Friends! I'm so excited to share with you a project I've been working on for several years ~ the story of Martin Luther for young people. I have two free resources available for you–a discussion guide, and a 12-week unit study on Martin Luther. You can find both at the bottom of this page under the Coordinating Resources section.
When Lightning Struck!: The Story of Martin Luther is available for pre-order now!
Luther's story is exciting. There are death defying moments, epic spiritual battles, narrow escapes, a kidnapping, revolution, and war. As the "Father of the Reformation", Luther is a vital figure in Church history. His sacrifice and willingness to wage battle against the spiritual, religious, and political powers of his medieval world allowed Christians throughout time to embrace the truth of salvation by grace alone through faith alone in Christ alone as explained by Scripture alone once again. May all glory be to God alone! I pray this story blesses a whole new generation of young people.
Introducing Martin Luther!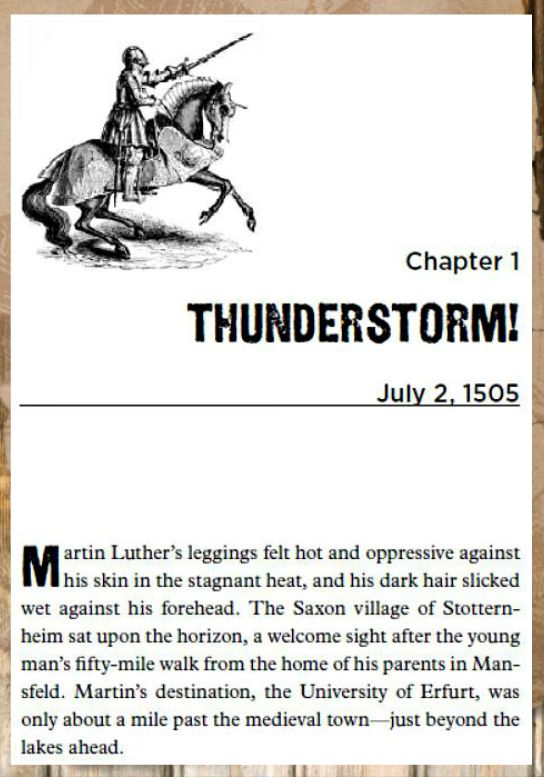 Endorsements
From the electrifying tension of the opening scene, When Lightning Struck will instantly captivate readers. Meticulously researched, this historical novel on Martin Luther will immerse the reader in the dust and grit of 16th century Germany. You will not only feel that Luther's struggles are your own struggles, you will enter the gates of paradise with Luther into the freedom of justification by faith alone in Christ alone. Not only is Danika Cooley an engaging writer of children's literature, she is a careful and winsome theologian. As in her Bible Road Trip, you will be in highly capable hands on the road trip of Luther's life from works to grace. Highly recommended! ~ Douglas Bond, author of many books of historical fiction, including the Crown & Covenant

When Lightning Struck brings the reader into an era of intense theological controversy – the Great Reformation – and tells of it in a highly readable "living history" that will grip the minds of youth! Nothing less than fiery story-telling would be fitting, to convey to us the life of a fervent heart like Martin Luther, and author Danika Cooley has achieved just that. Capturing Luther's impassioned spirit in nearly everything he touched, I found myself becoming indignant all over again (even though I knew the history) at the abuses of the church he exposed, and pressing onward in the book, to see what he was going to do about it! ~ Dennis Gundersen ~ President, Grace & Truth Books ~ www.GraceAndTruthBooks.com
From the Back Cover
Martin Luther's life was too exciting not to be written for teens and younger readers! In this fast-paced, action-packed novel of Martin Luther's life, teen readers (and more than a few adults!) will be introduced to a fascinating time when princes ruled Europe and knights roamed the countryside. They'll learn about a time when powerful forces lined up against each other and believing the wrong thing could get you killed.

When Lightning Struck! is far more than just an adventure story, of course. It also tells a theological story. Drawing carefully from Luther's own words, this book introduces readers to a kindred spirit who struggled with what knowing God through Scripture means for daily life. They will understand what was at stake and how powerfully liberating Luther's idea of grace through faith was—in his time and in ours!

In crisp, enjoyable prose, author Danika Cooley conveys both the drama and the meaning of the Reformation for younger readers like no one before her!
Order Details
When Lightning Struck! is available in both hardcover and ebook formats. The 264-page hardcover releases November 1, 2015 with the ebook version releasing just weeks later. The book is available for pre-order now!
Why pre-order? Your pre-order helps communicate that you care about engaging, quality Christian history for young adults. It's like putting the publishing industry on notice that you'd like more of these types of books for your children. It also helps get the word out to magazines and Christian theological bloggers that When Lightning Struck! is a book you want to hear about, and lets them know you'd like to see more Christian history resources available like this one. Plus, When Lightning Struck! will just land in your mailbox the very day it's available.
There's more than one way to pre-order!
Order directly from Fortress Press before November 1, 2015 and receive 35% off the retail price of $16.99!
Order code: LUTHER35 to receive 35% off!
Call 800-328-4648 or email salesandservice@augsburgfortress.org
Amazon
Christian Book
Coordinating Resources ~ Gifts for You!
Friends, I am so excited about When Lightning Struck! The Story of Martin Luther, I couldn't think of a better way to celebrate than to make resources for you to use with the book. I can't give away the book, but I'm giving away the resources!
The When Lightning Struck! The Story of Martin Luther Discussion Guide is 34 pages long, full-color, and it's free for you to download.
The When Lightning Struck! Discussion Guide is perfect for:
Youth Groups
Sunday School Classes
Family Read-Alouds
Homeschool Christian History
Each chapter has discussion questions and timeline dates to add to the 4-page timeline I've included at the back of the guide. There are also short biographies of important figures, and relevant Scripture passages to consider with discussion questions.
Want to download that Discussion Guide? Just click on the link below.
* * *
The Cobblestone Path ~ Martin Luther Unit Study guide is 244 pages long, full-color, and it's free for subscribers to download at the end of this page. Based on When Lightning Struck!, the unit study addresses the life and times of Martin Luther. Subjects covered by the unit study include:
Martin Luther's life
Timeline dates
Biographies of important people
Relevant Scripture
History
Science
Art history
Writing
Copywork
Vocabulary
Geography


The 12-week unit study for middle and high school students is ideal for use in homeschools or co-ops. Each week covers discussion questions on the biography chapters, timeline dates (there's a timeline included at the back of the unit study), related Scripture to study with discussion questions, and a short biography on an important figure.

The assignment schedule page for each weeks tells students what to study or write in each subject. In addition to the timeline, there are also vocabulary worksheets and maps at the back of the unit study. Each subject includes book suggestions that should be available at most libraries. Students can also just research subject matter online. There is no purchase in addition to When Lightning Struck! required to use the unit study.


There are notebooking pages available for the history and science subjects. These include both subject-related notebooking pages and biographical pages.
The art history section for each week's study includes a biography page for an artist, and three notebooking pages with five art pieces by that artist. Students will be able to write about how each piece impacts them, how they feel about the work, and why.


Each week, students will have a writing assignment. There are two pages available for this assignment. Students will also have weekly copywork, either from Scripture (both ESV and KJV are cited so you may choose the version you prefer), or a quote from Martin Luther.


Subscribers to Thinking Kids can download the Martin Luther Unit Study here.
Join the newsletter
Get the Family Prayer Box Project FREE!
Teach your children to pray with this fun project that includes 7 printable sets!