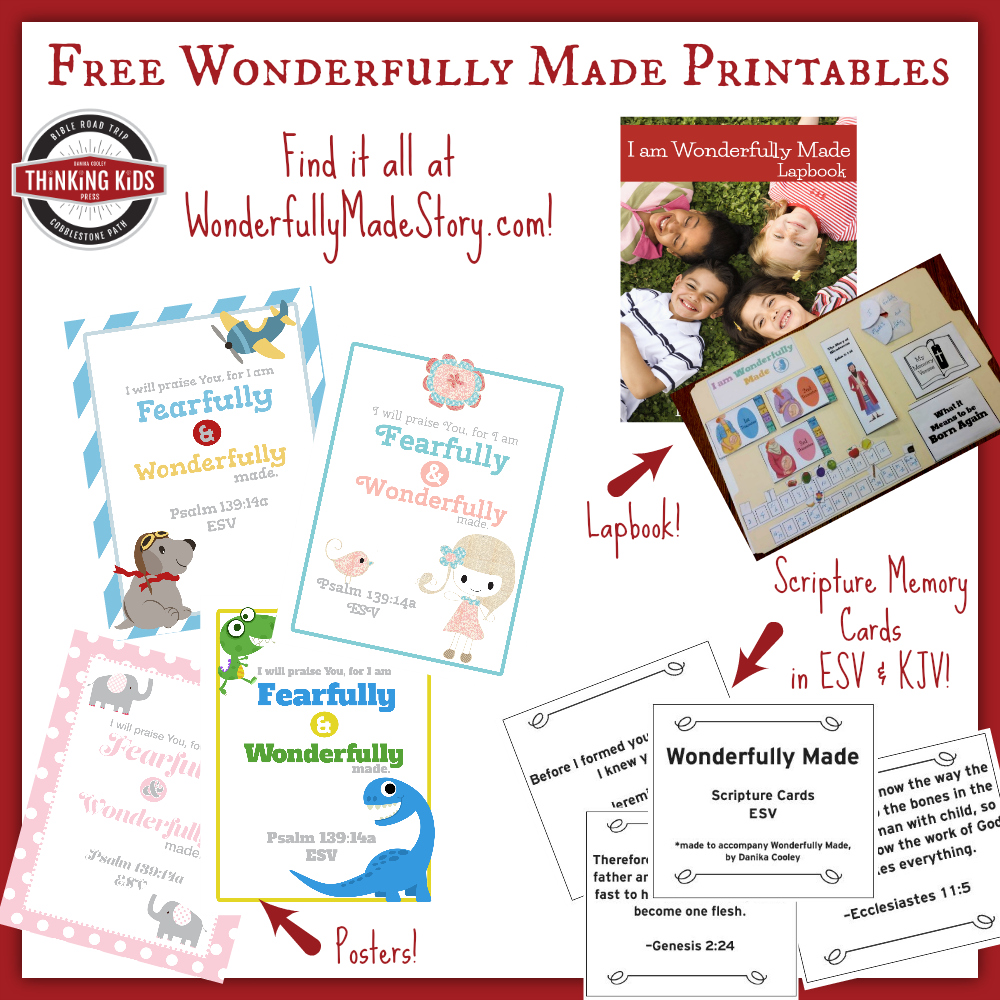 As we approach Thanksgiving, we tend to increasingly talk to our kids about gratitude. I've always been amazed by the way our bodies function–it's truly incredible. One of the most amazing things to me is the way that God forms a baby's body within the womb.
Have you ever wanted to teach your child about the way he or she developed in the womb, but you didn't quite have the proper materials to make it a concrete lesson for them? Do you want your kids to understand that they're wonderfully made by the Creator of the Universe–formed intentionally and for a purpose? Do you want your kids to understand what it means to be born again?
I have three free printable resources available for you to use to help your children learn the incredible truth about their own creation.
Wonderfully Made Posters 
Psalm 139:13-16 (ESV) says:
For you formed my inward parts;
you knitted me together in my mother's womb.
I praise you, for I am fearfully and wonderfully made.
Wonderful are your works;
my soul knows it very well.
My frame was not hidden from you,
when I was being made in secret,
intricately woven in the depths of the earth.
Your eyes saw my unformed substance;
in your book were written, every one of them,
the days that were formed for me,
when as yet there was none of them.
Check out these cute posters of Psalm 139:14a. They'd look great framed in your child's room! The posters are available in either ESV or KJV.
Wonderfully Made Scripture Cards
Kids can learn what Scripture says about God's creation of human life with Wonderfully Made Scripture card sets. Each set has 20 cards, and you can download these in either ESV or KJV.
I am Wonderfully Made Lapbook
The I am Wonderfully Made Lapbook will help kindergarten- and elementary-aged kids to really explore the development of fetal life and God's plan for the "second birth". The lapbook gives children a permanent visual record of what they've learned.
Learning Objectives for the Wonderfully Made Lapbook:
Learning the science of life in the womb
Memorizing Scripture
Learning the story of Nicodemus–and the gospel
Fine motor skill: Cutting
Fine motor skill: Stapling
Fine motor skill: Gluing
Basic writing
Numerical sequencing
Written narration
The
I am Wonderfully Made Lapbook
comes with instructions printed on each section. Children will have the opportunity to cut out each piece of the lapbook, assemble the mini-books, apply glue, and arrange the mini-books, pockets, timeline, Scripture bloom, and other components.
You'll want to arrange the assembled pieces before gluing them down. Younger children may require some assistance with the process, but they'll view their creation with pride! The front page of the lapbook can be glued to the front of your file folder, just like a book cover.
Your child's assembled lapbook will look similar to the folder above. The "My Memory Verses" pocket is where you'll store your child's Wonderfully Made Scripture Memory verse set.
Find your free Wonderfully Made materials here ~ they'll be at the bottom of the page.

Join the newsletter
Get the Family Prayer Box Project FREE!
Teach your children to pray with this fun project that includes 7 printable sets!