In Koine Greek, the language of the New Testament, the word "Theos" means "God" and "ology" means "the study of". Theology, then, just means "the study of God".
We study God by reading the Bible, which is all about Him. We also study Him by committing to study good theology and doctrine, making certain that our beliefs and understand lines up with the whole counsel of God as it's outlined in Scripture. I think it's really important to help our kids understand good theology from an early age.
My focus over the past ten years or so has really been on resources that help educate kids in theology, the Bible, and Christian history. I want to share with you a few great resources that you can add to your child's summer reading to help strengthen their understanding of who God is this summer. Consider reading these aloud, or in tandem, and then discussing them with your kids.
I'm sharing my top theology-related book picks for kids ages 2-18 today over at Kids in the Word. I hope you'll join us!
Are you looking for a great theology curriculum for your younger kids? Check out Sound Words: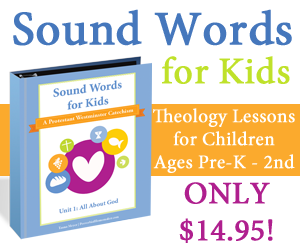 Join the newsletter
Get the Family Prayer Box Project FREE!
Teach your children to pray with this fun project that includes 7 printable sets!