A few years ago, I was wondering what I could possibly do for my kids for Valentine's Day. I wanted to do something cool, that would hit a few of the love languages all at once. I found some printable coupons, made by a designer whose website is no longer operational. I filled out a set of coupons for each child tied them with a ribbon, and set them at my kids' places before breakfast.
You would have thought I'd given my children a small pile of gold! Those boys were ecstatic about their coupons. They loved the ability to use them at will, and also the fact that I put time and effort into the gift. Each year (because why mess with a good thing?) my kids dole out their coupons, counting the months until February roles around again.
I've made you three sets of coupons to choose from, and you're welcome to download whichever one you'd like. Each set comes with three pages (8 designs, for a total of 24 coupons. Want more? Just print extra pages.) I suggest printing on my favorite cardstock: Neenah Premium Cardstock, 96 Brightness, 65 lb, Letter, Bright White, 250 Sheets per Pack (91904). I love how smoothly it prints.
This post is a part of the "Love Never Fails" series. You'll find links to posts on love written by friends of mine as you scroll down.
Subscribers can download the set of your choosing by scrolling to the bottom of the screen and clicking on the coupon title of your choice (the great big links are at the bottom of the page). If you're not a subscriber, just register, then return here to download. There are lots of Thinking Kids subscriber gifts for you!
Love Coupon Ideas for Kids
For the coupons, be specific! Tell your kids what you're willing to do, along with limitations if applicable (ie. A $5 book, A trip to the zoo in May). Kids love quality time, physical touch, small gifts, and little acts of service. It's hard to make a coupon for words of affirmation, but if you can think of a way to include that, go for it! I'll list some ideas to get you started.
Make cookies together
A day off school
One trip to the zoo
Your choice of read-aloud
One book–and a trip to the bookstore
Cuddle time with mom
Fishing with dad
A hike
A bike ride
A movie, hot chocolate, and popcorn
Your choice of dinner at home
Your choice of restaurant
A science experiment–you pick
A camping trip
Ice skating with a friend
Love Coupon Ideas for Your Spouse
These are really going to vary, based on your spouse. I've given you a few ideas to get you started. Women, men are focused on companionship (go fishing or camping with them), they often have household tasks they'd love to have you do (think: clean out the Tupperware), and of course, they enjoy food. You should probably use a whole sheet of coupons for private encounters with your spouse. Use your imagination for those. Men, women enjoy quiet time together, and usually anything that builds your relationship (read a book together). We also usually have a secret honey-do list we haven't even mentioned to you!
Your choice of dinner
A night out with me
At-home date night
Accompany to your favorite sports event
A chore off your honey-do list
A back rub
Read a book together
Your choice of dessert
Aren't these little bugs cute? These coupons are perfect for young boys and girls.
My boy, upon seeing the bug coupons, helped me design these nature coupons, so they come teen-boy-approved. These are great for preteens and teens, or even your younger nature lovers.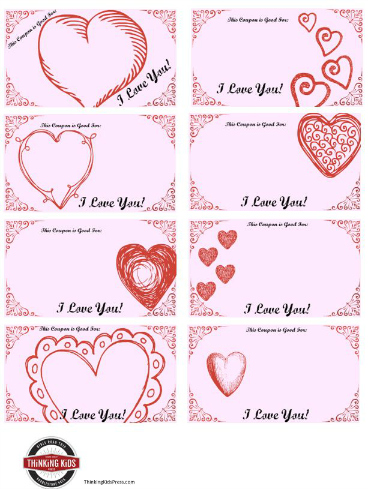 I thought you might want some coupons for your spouse. Here you go! These would work for your girls as well. Your boys might frown upon receiving something so heart-laden, though.
More Love-Related Posts at Thinking Kids
Printable Love Scripture Memory Booklet
Teaching Kids the Truth About Love
More Posts in the LOVE NEVER FAILS SERIES

I have joined with some lovely friends to bring you a Love Never Fails blog hop! We're celebrating this beautiful truth with inspiration, encouragement, and practical helps for you this Valentine's Day. We hope you are blessed by it!
Printable Love Coupons
Just log in to your subscriber account and click on the link of the set you'd like to download!
Join the newsletter
Get the Family Prayer Box Project FREE!
Teach your children to pray with this fun project that includes 7 printable sets!