My kids love stories, and they especially love hearing me tell stories that involve them. From the time each boy was young, they most loved hearing the story of their time in the womb. I told them of how their little bodies grew, and how I could feel them moving. They have always been so excited to hear how I could feel them fluttering, and how later I could see their little hands and feet press against my skin. I would put my large hand against their tiny hand pressed against the inside of my belly and talk to them, knowing that at birth they would know my voice and recognize it from their time in the womb.
I'm convinced that children need to hear about their lives in the womb, whether they learn from biological parents or from adoptive parents (Christians truly understand what it's like to be adopted). Let's talk about a few reasons why teaching kids about life in the womb is important.
Reasons to Teach Kids About Life in the Womb
1. Explaining life in the womb has a theological purpose.
Babies–in the womb and out–are imago Dei, created in the image of God. We see this first in Genesis 1:26a (ESV): "Then God said, "Let us make man in our image, after our likeness." (See also Genesis 5:1-3 and Genesis 9:6.) In his Systematic Theology, Wayne Grudem explains that the Hebrew words for "image" and "likeness" denote a representation. We are not exactly like God, but we are like Him and represent Him in some way. (Systematic Theology, pp. 442-443)
Human life is important and Scripture speaks of human life in the womb a number of times. As God has created life in the womb, our children should be taught that little lives are imago Dei –in the image of God. They are precious and valuable to God. Not one of these little lives occurs without being ordained by God. Children can take great comfort in understanding that the second birth–their salvation–will conform them to be the image of the Son of God, Jesus. Romans 8:29 (ESV) tells us: "For those whom he foreknew he also predestined to be conformed to the image of his Son, in order that he might be the firstborn among many brothers." What a wonderful truth!
2. Explaining life in the womb has a scientific purpose.
Our children learn all about different animals' cycle of life in science class. It's important for our children to know that carrots don't magically appear in the grocery store. Rather, they grow from small seeds planted in the ground. We teach kids that chickens lay eggs, those eggs hatch, and chicks scratch their way out. In fact, sometimes we even set up incubators so children can experience this themselves, looking through the shell with lights, and watching the baby chicks grow and hatch.
Likewise, it's important for children to understand the process of human development. Humans are humans from conception, when the egg and sperm–the cell from the mom and the cell from the dad–combine. God has provided each cell with a blueprint, and when those blueprints combine, an intricate blueprint for a new human being appears.
Children can see God's providential design in the formation of babies in the womb. By week 4 (just 2 weeks after conception), babies are smaller than a grain of rice, yet the heart is beating. By week 12, babies in the womb have all of their organs, they are breathing amniotic fluid, their little cartilage skeletal system is hardening into bone, and they wave their fingers and toes and squint at bright lights.
We teach children about the cycle of life in animals and in plants, let's teach them about the development of humans in the womb as well.
3. Explaining life in the womb has a relational purpose.
Teaching children about life in the womb helps them bond to their parents, as they come to understand how they were loved and valued even before they were seen. This is true with adopted children as well. Though their parents were unable for some reason to raise them, adopted children's mothers loved them enough to care for them and allow them time to grow into children who could live outside the womb. Their new mom and dad loved them so much they took care of them regardless of where the child grew.
Telling children the story of how they came to be, how they developed, and how they were loved by both parents and God helps them understand their value and purpose. The birth story helps children understand the second birth–the story of salvation, as we are adopted as heirs of God, born of His Spirit.
"According to his great mercy, he has caused us to be born again to a living hope through the resurrection of Jesus Christ from the dead…" 1 Peter 1:3b (ESV)
A New Resource to Help Teach Kids About Life in the Womb
I am so excited to officially announce the publication of my new book
Wonderfully Made: God's Story of Life from Conception to Birth
, published by Christian Focus 4 Kids.
Wonderfully Made
is a science- and Scripture-filled picture book for kids ages 5-11. The book is told from the perspective of a mother telling her child about his or her development in the womb week-by-week. In fact,
Wonderfully Made
is written to help parents meet the theological, scientific, and relational purposes of teaching kids about life in the womb.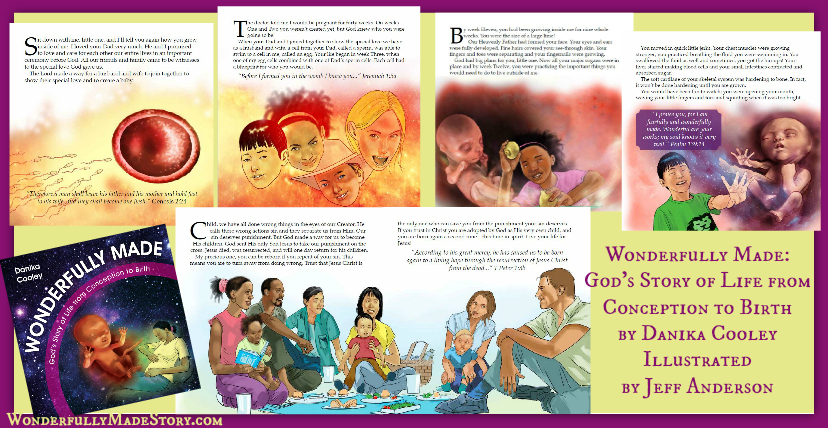 If you haven't
subscribed to Thinking Kids
yet, now is the time to do so! I'll have three great printables for you to use with your family to continue the learning your kids are doing as you read through
Wonderfully Made
with them. We'll also have a party and a few surprises to celebrate. I'll be sending out emails over the next few weeks to let you know about each special offer.
Learn more about Wonderfully Made over at the book page.
You can purchase Wonderfully Made now:
Amazon: Wonderfully Made: God's story of life from conception to birth
Amazon UK: Wonderfully Made: God's Story of Life from Conception to Birth
Christian Book: Wonderfully Made: God's story of life from conception to birth
Giveaway ~ 25 Winners!
Kids are so tactile! To help your children really understand what a 10-12 week baby in utero looks and feels like, I'm giving away 25 sets of fetal models. The detail, feel, and weight of these babies is impressive, and these small models (3″ long) really help kids understand what a 10-12 week fetus truly looks like. Each winner will receive two 10-12-week fetal models, one white and one brown.
Fun, right? I'd love to have you enter AND tell your friends. After all, there will be a lot of winners.
Set of 2 10-12 Week Fetal Models ~ 25 Winners!
This giveaway is open to residents of the U.S. Void where prohibited by law. Must be at least 18 years of age. This giveaway is in no away associated with Facebook, Twitter, Instagram, or Pinterest. No purchase necessary for entry. Odds are determined by the number of entries. Selected winners will have 48 hours to respond to email notification to claim their prizes or another winner will be drawn. Fetal models are for children over the age of 3.
Image: Studies of Embryos, 1510-1513, Leonardo da Vinci (1452-1519), Public Domain
Join the newsletter
Get the Family Prayer Box Project FREE!
Teach your children to pray with this fun project that includes 7 printable sets!