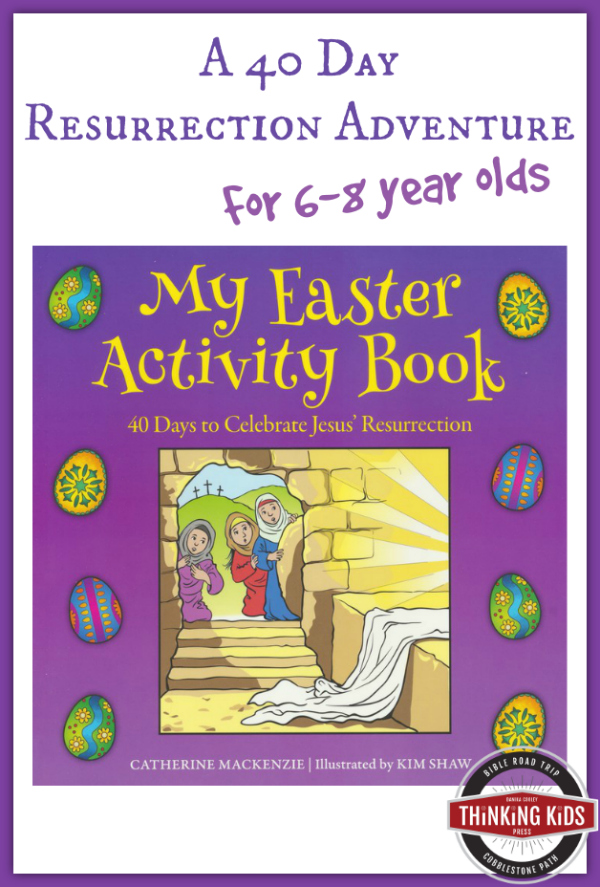 I want to thank Christian Focus 4 Kids for supplying a review copy of My Easter Activity Book, and one for the giveaway, in return for my honest opinion.
Resurrection Sunday (or Easter) is one of the most exciting times of the year, isn't it? How amazing to remember that our Lord took on flesh, suffered, and died for the forgiveness of our sins–and then he rose from the dead to live eternally! Amazing.
When I was a kid, one of my favorite activities was to work on puzzles. I loved them all: mazes, word puzzles, logic games, codes, different pictures. You really couldn't give me a logic activity I didn't want to get ahold of. I also loved coloring and reading. I would have been eager to get my hands on a good Easter activity book for children.
My Easter Activity Book by Catherine MacKenzie
Catherine MacKenzie has written an awesome book that children who enjoy puzzles will love! My Easter Activity Book: 40 Days to Celebrate Jesus' Resurrection (Christian Focus Publications, 2016) has a wonderful array of activities and reading, aimed at children ages 6-8.
The book has 41 days of readings and activities. Day 40 is the Resurrection; there is an extra day (41) to cover the Lord appearing to the disciples after his resurrection. Each day of the book has an illustration to color, a story to read, and an activity to do. There is a wide variety of activities including: decoding Bible verses, mazes, find-the-difference pictures, a story wheel, and crafts to make.
There are several sections following the 41 days of puzzles and stories. You'll find a 40 days of Scripture reading schedule, Bible verse coloring pages, an answer key for the puzzles, and a colorful, thick checklist for the 40 days of Bible activities.
What I Loved About My Easter Activity Book
My Easter Activity Book is the sort of gift I would have loved to receive as a young girl. I was always begging for activity books in the grocery store checkout line. What a fabulous thing it would have been to find one with such a sound, biblical purpose.
If you're looking for a gift this Easter, I absolutely recommend this book. You might want to throw in Catherine MacKenzie's My Christmas Activity Book and a set of colored pencils as well. Tie them all together with some ribbon and you're set!
Giveaway! Ends 3/3/17
Note: This is an electronic raffle-style giveaway. There is only one mandatory entry. Every other entry just increases your chances of winning.
Giveaway open to residents of the U.S., age 18 and older. Winner must respond to email within 48 hours. Giveaway will end on March 3, 2017 at 11:59pm PST. Entrants will be subscribed to Thinking Kids.
My Easter Activity Book
You can purchase My Easter Activity Book at
Amazon: My Easter Activity Book
Christian Book: My Easter Activity Book
More books for ages 5-9 reviewed at Thinking Kids:
Or just check out the Thinking Kids book review indexes for
Thinking Kids Pinterest Book Boards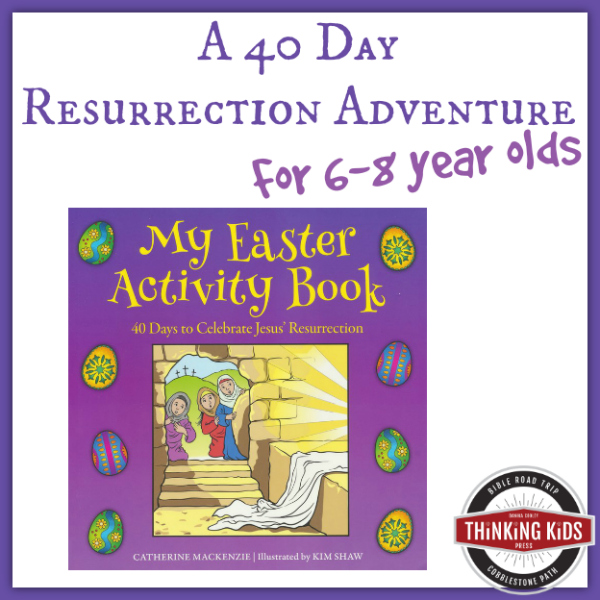 Join the newsletter
Get the Family Prayer Box Project FREE!
Teach your children to pray with this fun project that includes 7 printable sets!