October 31st, 2017 was the 500th anniversary of Reformation Day! Here at Thinking Kids, we've been gearing up for this monumentous event for two years–ever since the publication of When Lightning Struck!: The Story of Martin Luther. 

Are you ready to teach your family about Martin Luther and the Reformation this year? Don't worry if you're just getting started–you can celebrate all year long. To help you, I have SEVEN free printable Reformation resources ready for you to download.
You'll also find posts about the Reformation–like a list of great living books covering Reformation events and figures for kids of all ages.
---
When Lightning Struck!: The Story of Martin Luther
Before we get to the Martin Luther and Reformation printables, I want to invite you to read passages from my book When Lightning Struck!: The Story of Martin Luther (Fortress Press, 2015). Just click the "Preview" link on the lower right-hand side of the graphic, and Amazon will allow you to check out a few chapters!
You can read more about 
When Lightning Struck! 
at the book page here on Thinking Kids
.
And here I read the first chapter and talk about why the Reformation is such a big deal!
---
Free Martin Luther Reformation Resources
Let's get to the free resources, then I'll give you some great posts where you can learn more about Martin Luther and the Reformation.
You can choose from discussion guides, a notebooking research journal, a biographical card set, a hymn craft, Reformation Day snacks (and labels!), and even a 12-week unit study. If you want, grab them all! Some of these are substantial resources–more than 50 pages of written matterial.
Downloading your free resources is easy. Just click on a graphic below and you'll be taken to a post to learn more about that activity. In the post you'll find a registration form that looks like this:
Just enter your name and email address and hit subscribe. After you confirm your registration in the email you receive, your free Reformation resource will be emailed right to you!
You'll need to fill out the registration form for each resource you'd like to receive. 
Otherwise, the system won't send you anything but the resource you registered for. You might need to scroll all the way to the bottom of the post to find some of the registration forms.
Choose your free Reformation resources below: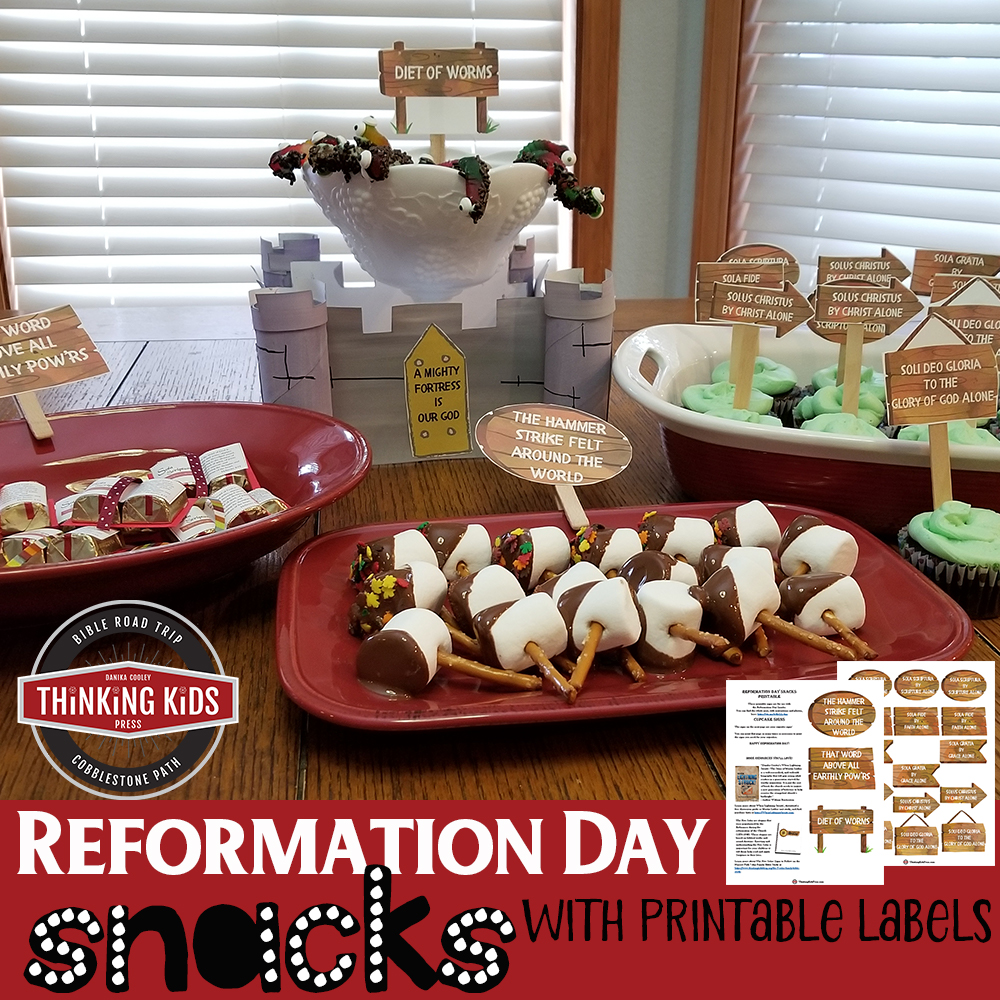 Reformation Day Snacks – Free Printable Labels!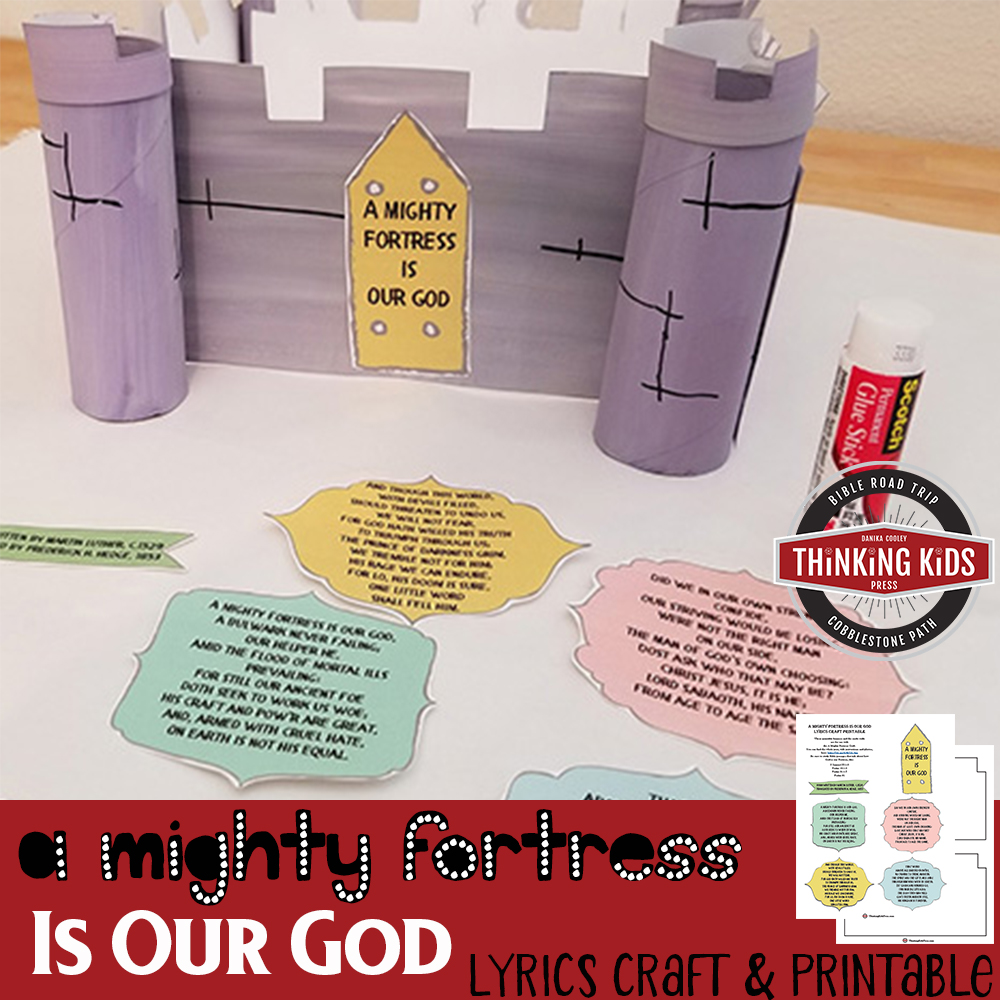 A Mighty Fortress is Our God Hymn Craft with Printables
When Lightning Struck! Family Discussion Guide
Rumblings of a Revolution During the Reformation Age – 70-page sample of Cobblestone Path Church History Research Journal
Reformation Study Guide
---
The Five Solas Family Bible Study: Sound Theology for Today
The Five Solas
The Five Solas are slogans that were popularized by the Reformers during the reformation of the Church (1350-1648). These slogans are based on biblical truths and sound doctrine. Knowing and understanding the Five Solas is important for your children–it will help read and apply Scripture to their lives.
The Five Solas: Signs to Follow on the Narrow Path Family Bible Study
This family Bible study will help you explore Scripture in an engaging manner with seven days of family study. Each day includes:
An overview of a Sola or Scriptural concept
A Bible passage to study with discussion questions
Additional passages to read to better understand the intent of each Sola
A structured notebooking page to encourage independent thinking and writing skills
A family activity to creatively cement your child's learning
A memorable craft  encourage creative expression and further your child's understanding
Bonus coloring pages for older children and a printable card set for memory games
Seven Days of Study
Your family will study the Five Solas together for seven days. Need more time to explore? You can always extend each day's study to several days or even a week!
Day One: Lost in the Woods: How the Solas came to be and what Sola means
Day Two: Sound Doctrine
Day Three: Sola Scriptura
Day Four: Sola Fide
Day Five: Sola Gratia
Day Six: Solus Christus
Day Seven: Soli Deo Gloria
Additional Activity Pages
You'll find fabulous additional printable activities in your The 5 Solas family Bible study.
Printable Cards to be used as flash cards, memory cards, or a matching game
Seven coloring pages for older kids and adults
The 5 Solas: Signs to Follow on the Narrow Path is just $14.99 for a family license! Get your copy today.

---
Learn More About Martin Luther and the Reformation
Check out these posts to learn more about Martin Luther and the Reformation!
The 5 Solas Family Bible Study
Martin Luther and the 95 Theses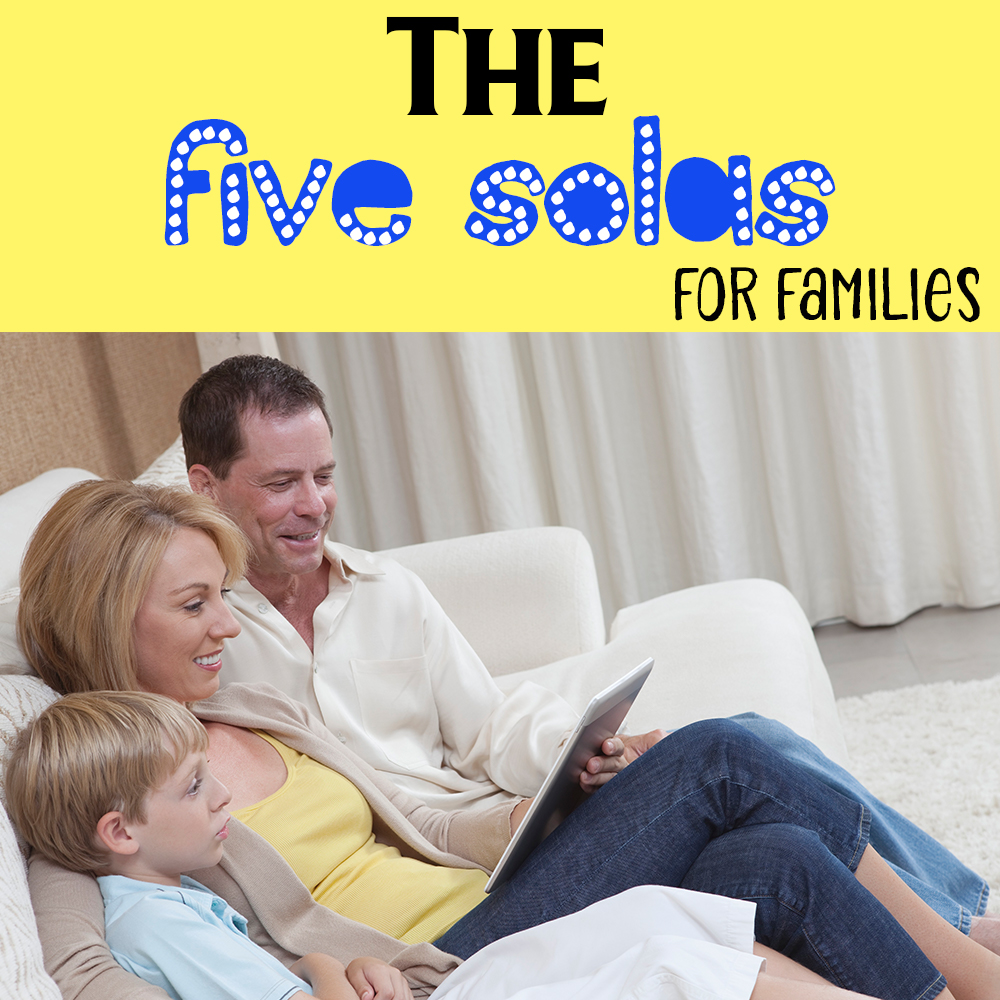 The Five Solas for Families
When Lightning Struck!
Reformation Books for Children and Teens
---
Join the newsletter
Get the Family Prayer Box Project FREE!
Teach your children to pray with this fun project that includes 7 printable sets!