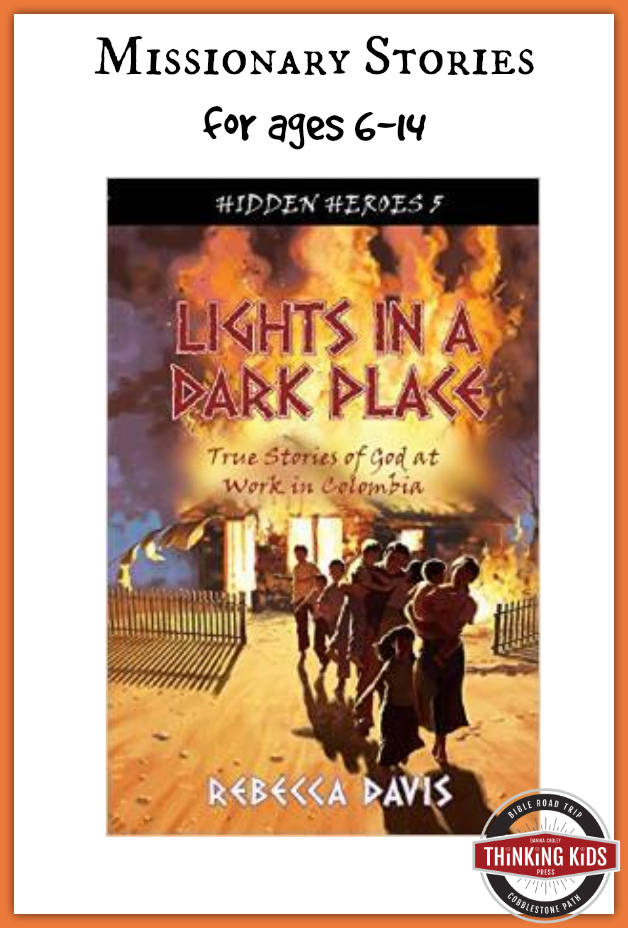 I want to thank Christian Focus 4 Kids for providing me with a copy of Lights in A Dark Place in return for my honest review, and with a copy for the giveaway.
All over the world, missionaries are working quietly for the gospel of Christ. They do so without glory, and in dangerous circumstances. Their inspiring stories are rarely told.
Rebecca Davis is changing that with her Hidden Heroes series from Christian Focus Publications, written for ages 6-14. At a rate of one new book a year, Mrs. Davis is allowing children to see how God is working in some of the spiritually darkest, most remote, or most hidden areas of the world. Her books follow the stories of the people in each area over a period of decades rather than exploring the biography of one individual missionary. I love the focus each book has on the movement of the Holy Spirit amongst the people God calls to Himself.
The stories in Lights in a Dark Place involve the extraordinary movement of the Holy Spirit in each situation. There are dreams and God "speaks" to believers in different circumstances. That seems (to me) to be a fairly common in testimonies of how God moves in foreign missions in difficult areas. God is indeed powerful, and He impacts lives directly. That's evident in these narratives.
Lights in a Dark Place: True Stories of God at Work in Columbia (CF4K, 2014) is the fifth book in the Hidden Heroes series. The stories told span from 1935 to today. Children will learn about how God has moved to rescue the people of Colombia from the spiritual oppression of idolatry and the false gospel of Roman Catholicism, the guerilla warfare resulting from the twisted ideals of Communism, and the heartbreaking brutality of the drug trade.
In that way, the stories of Lights in a Dark Place are a little different than the rest of the series. The people of modern-era Colombia were not isolated tribesmen, living without any contact with the outside world. They were tribal and village dwellers, living on the brink of modern-day civilization. The spiritual oppression in the area is evident in the stories told in this book, as it is in all of the Hidden Heroes books. I appreciate that, as the dynamic of good versus evil is very clear. The impact of the true gospel of Jesus Christ in the lives of those He calls is immediate and clear. I think it's excellent for kids to be able to read about how Jesus changes the hearts of His own, and to be able to see how that heart change impacts an entire culture.
Because the darkness is so clear in the stories, I think you—as a parent—will want to exercise some discretion in what age you choose to introduce these narratives to your individual children. Lights in a Dark Place is written to be understandable and engaging for elementary school students, but if you have a spiritually sensitive child, you may want to wait until they are at least 8 or 9 to introduce the book. My ten- and twelve-year-old boys have been reading the series for a number of years. We started around age 8, and I read them aloud so I could help them process the cultural and spiritual differences they encountered. Now, they love reading these on their own.
Lights in a Dark Place is another engaging and emotional addition to the Hidden Heroes series. I highly recommend both the book and the series. This is a great book to add to your homeschool read-alouds, your evening devotions, or your bedtime readings. The Hidden Heroes series is appropriate to be read aloud to ages 6-8 and for independent reading for 9-14 year olds. The sentence structure and voice are very appropriate for elementary students, and there are pen and ink drawings by Del Thompson throughout each chapter to add interest. Even so, the subject matter is interesting enough for a middle school child. My 10- and 12-year-old boys love the stories in all of the Hidden Heroes books we've read.
You can check out the Hidden Heroes Educator Resources for coordinating material.
Lights in a Dark Place would coordinate well with studies involving:
Colombia / South America

The 20th Century / Modern Era
Russell Stendal / Missions
Catholicism / Tribal Religions
Communism
Enter to win a copy of Lights in a Dark Place. The giveaway will end January 16, 2015 at 10am.
Lights in a Dark Place by Rebecca Davis Giveaway

You can find Lights in a Dark Place and the other Hidden Heroes series at Amazon:
More Books for 8-12 Year Olds Reviewed at Thinking Kids
Thinking Kids Book Review Indexes
Thinking Kids Pinterest Book Boards
Join the newsletter
Get the Family Prayer Box Project FREE!
Teach your children to pray with this fun project that includes 7 printable sets!