The Poetic Wonder of Isaac Watts biography is perfect for teens. Your young adults will love Christian history books by Douglas Bond!
---
I've been wanting to read through Reformation Trust's series of biographies, The Long Line of Godly Men Profiles, for a while now. Douglas Bond is one of my very favorite biographers and historical fiction writers, so I started with The Poetic Wonder of Isaac Watts (Reformation Trust, 2013).
To be honest, I knew next to nothing about Watts, as I enjoy music, but I've never really studied it. We can blame that on both postmodern music in churches, and the fact that I honestly cannot count in time to a beat. I abandoned musical studies early on. Imagine my excitement, then, when I discovered that Watts wrote both "When I Survey the Wondrous Cross," and "Joy to the World! The Lord is Come," songs I know and love.
I was doubly excited when I found that the line of books was completely appropriate for middle and high school students! This book is 138 pages of actual text with chapter subheadings, a conversational style, and plenty of white space. The other two I now own are similarly written (those are by series editor Steven J. Lawson).  I thought I'd review this biography for you because I'm just so excited about the series.
---

---
Isaac Watts (1674-1748) was a theologian, pastor, and hymnwriter. Actually, he is referred to as the "Father of English Hymnody". The author of some 750 hymns and 50 books, Watts incredibly spent 36 years of his life ill and on bedrest. Friends, if you ever question whether God can truly be glorified in the midst of pain and suffering (which, of course, he sovereignly allows)–refer to Isaac Watts.
I appreciate Douglas Bond's candid evaluation of the biographical figures he profiles. For Watts, Mr. Bond emphasizes the fact that the hymnwriter was always focused on glorifying God alone. He contrasts this desire with the poetry and writings of today, which primarily glorify the writer. As a writer, I found this evaluation cautionary. I think glorifying God alone is a worthy consideration for our students as they undertake more serious communication. (It's a worthy consideration for us as adults, too!) Honestly, I always learn so much from biographies, and more so from those written by Mr. Bond, as I find his theology to be biblically based, and his commentary always stretches me to grow in some way.
I read to my boys (both in middle school) from the sections on Isaac Watts' childhood. They both found the story engaging, and quite funny in parts. I know they'll enjoy the full biography later this year as we study the period of time directly following the Reformation.
For middle and high school students, The Poetic Wonder of Isaac Watts is a great choice, and the entire A Long Line of Godly Men Profile series looks wonderful.
---
The Poetic Wonder of Isaac Watts Coordinates With Studies Including
Late 17th & Early 18th Century
Hymn Studies
Poetry
Chronic Illness
Covenanters
The Great Awakening
---
Purchase The Poetic Wonder of Isaac Watts 
---
A Long Line of Godly Men Profile Biographies
Your teens will learn about character and theology with these excellent profiles!
---
Books by Douglas Bond
---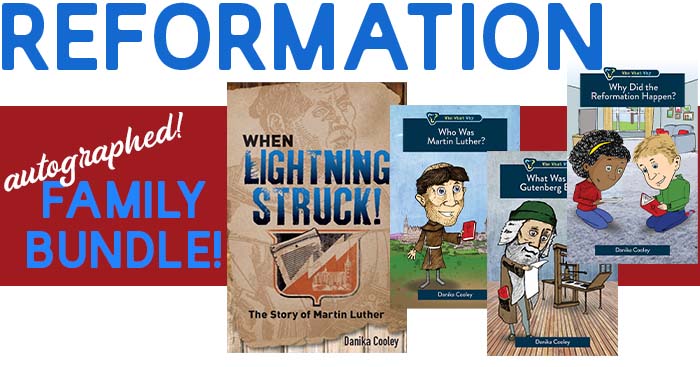 Your kids will love the Who What Why Reformation series with illustrated narratives for 8-11 year olds.
And, Martin Luther's young adult historical fiction story makes the perfect family read aloud!
Grab the autographed Reformation Family Bundle!
---
Martin Luther and the Reformation
Teach your teens about Martin Luther and the Reformation in an exciting, new way with When Lightning Struck!: The Story of Martin Luther!
Martin Luther (1483-1546) is often referred to as "The Father of the Reformation". Born during a time of superstition, tradition, and spiritual corruption, Luther gave up a lucrative career as a lawyer to become a monk in the Roman Catholic Church–a path he felt would certainly lead to salvation.
As Luther's understanding of the spiritual corruption within the Church grew, and he despaired of true salvation, Luther (now a scholar and priest) sought the Bible for answers. Following his discovery of the true gospel in Scripture, Luther began to preach spiritual freedom to his congregation, and to teach biblical (rather than philosophical) theology at the University of Wittenberg.
It was on October 31, 1517 that Martin Luther penned his Ninety-Five Theses in Latin in response to the abusive indulgence sales practices of the monk Johann Tetzel in a nearby town. Luther nailed the Theses to the door of the Wittenberg Castle Church, the scholarly bulletin board of his day, and mailed a copy to the Archbishop of Mainz. Luther hoped to start a scholarly debate about the practice of selling salvation through plenary indulgences. The response he received was greater–and more dangerous–than he imagined it would be.
Luther's story is exciting. There are death defying moments, epic spiritual battles, narrow escapes, a kidnapping, revolution, and war. As the "Father of the Reformation", Luther is a vital figure in Church history. His sacrifice and willingness to wage battle against the spiritual, religious, and political powers of his medieval world allowed Christians throughout time to embrace the truth of salvation by grace alone through faith alone in Christ alone as explained by Scripture alone once again. May all glory be to God alone!
Read portions of the first eight chapters of When Lightning Struck!:
---
More Thinking Kids Posts You'll Love!
---
Join the newsletter
Get the Family Prayer Box Project FREE!
Teach your children to pray with this fun project that includes 7 printable sets!