Do you homeschool with chronic illness? Author April McGowan shares her homeschool experience with chronic illness, and the role her faith in God plays.
---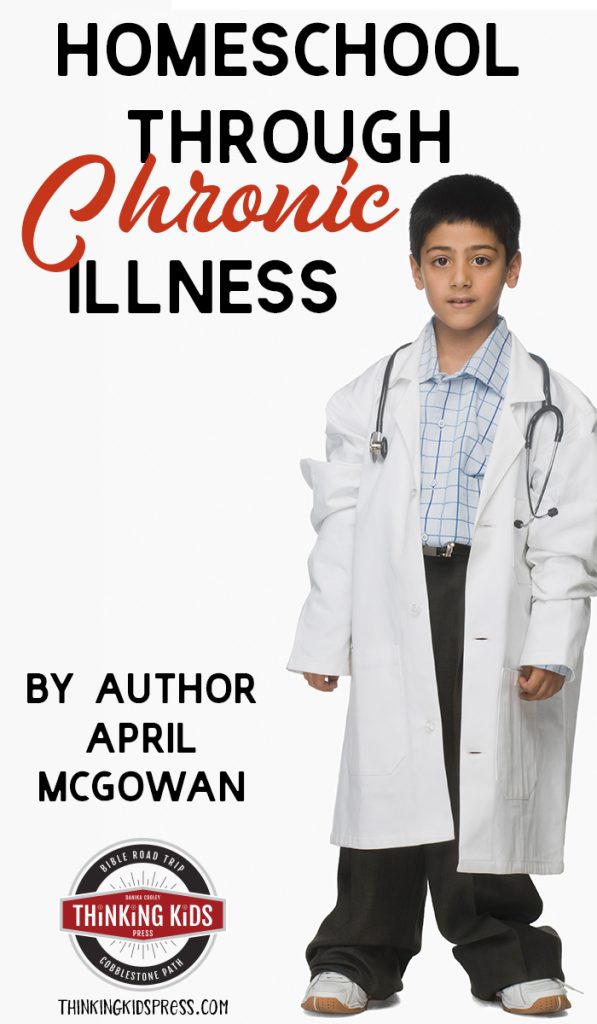 I met my friend April at a writer's conference last year and immediately connected with her.  She's witty, down-to-earth, and always encouraging.  I admire April's Christian walk and her family is charming.  She's also my critique partner. 
This post was originally written in 2013, but with April's new book Shine the Light launching April 15, 2019, I knew it was time to bring it back! ~ Danika
---
Our family has been homeschooling for fifteen years (I count my daughter's first year of life, because we knew all along we were going to homeschool her).
Homeschool Through Chronic Illness
When we started down this road, our family was in what we considered to be fairly good health. But, as the years went on, we were clobbered with more and more serious health conditions. My family suffers from life-threatening environmental and food allergies, as well as Celiac disease for my son. And then two years ago, after my seventh bout of pneumonia, I was diagnosed with CVID (Common Variable Immune Deficiency)—a genetic disease that gets worse as I grow older. I can't fight off colds or infections. Not quite the boy in the bubble syndrome, but similar.
---
Christian Contemporary Fiction by April McGowan
Jasmine

Macy

Hold the Light

Shine the Light

---
During these days of severe illness, I considered the impact on my children. I mean, I'm not the ideal homeschooling mom anymore. I miss assignments, and forego subjects on hard days. We sometimes get behind in our schedule, and I can't do fieldtrips like I once did. School often lasts into 'summer' break. I began to worry that I wasn't enough.
Then I realized, I was never intended to be—the Father has His plans set for my children, and for me.
Because of ever worsening fatigue, my kids took over housekeeping, and got a bit more independent. They've grown in compassion towards the sick. They've learned to manage their time—and more importantly they've learned they don't have to (and can't) do it all. An excellent lesson in our American go-until-you-drop culture. Family time now takes precedence over all the opportunities out there. I've also had to learn to humble myself and ask for help. Thankfully, we have some amazing support in other local homeschooling families who pick up my children for activities, pray and encourage us.
Is it hard to teach through chronic illness?
Yes. But, we've learned so much along the way, I wouldn't trade this time for the world. I am looking forward to seeing how the Lord works this out in my children's lives—and I'm so grateful to know that He will.
---
April McGowan loves to read and write inspirational fiction. She and her husband, two children, and her 'mews', Spookers, live in the beautiful Pacific Northwest. April is a member of Oregon Christian Writers and American Christian Fiction Writers. When she's not writing, homeschooling her two children, or playing board games, you might find her at her drum kit, imagining she's on a world tour. Hey, it could happen.
---
Join the newsletter
Get the Family Prayer Box Project FREE!
Teach your children to pray with this fun project that includes 7 printable sets!