Just for fun, I thought that today I'd offer to give you a tour of my very favorite room in our house–maybe you'll grab some home library ideas.
It's the room I love to hang out in, where we all kick off our shoes, curl up, and read or play a game together. While we're touring our organized homeschool room, I thought I'd explain how we organize our books and supplies as well. Organization is kind of my thing, and perhaps you'll find a tip that you can implement in your own homeschool room (home library or no home library).
Also, I thought I'd show you how we've decorated. In this stage of life, it's all about family and practicality for us, so a lot of our décor consists of projects the boys have done. I really love the memories that hang on our walls! It just took a few really nice touches to pull the whole thing together and make it look planned.
This room wasn't always a library. For a long time, it was our son's room (he's been grown and out of the house for a long time now). It's also housed a playroom and then some guests once-upon-a-time. But now it's become a little sanctuary from the rest of the house (we have a very open floor plan, which I love, but this space is just comfortable and secluded).
I love the children's rug in here. We had so much fun choosing it when our youngest two were little. We've repurposed it from the boys' bedroom to the library, and we love to play games on it. This was a total splurge for me, but I think the rug really pulls the room together, and unites the blue couches and the burgundy accents. I'll probably keep this rug even after the boys are grown, just because it reminds me of their sweet toddler days.
The couches are something my husband picked up at a second hand store for just over $50. He cleaned them, and then somehow manipulated them through the door. They're really comfortable, and the leather makes them dust-able, which is a must for me.
---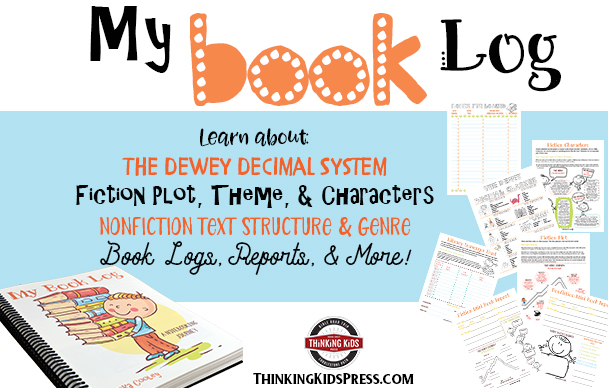 Looking for a book log that has it all? Check out the My Book Log.
---
All of the shelves were found on Craigslist. We purchased the paperback shelves from a used bookstore going out of business for $5 each. Ed cut them to fit the size of the room (one even goes around the window), and then we stained them a dark color. I love the paperback shelves because they're shallow (allowing the couches to fit), and the shelves are really close together, so they hold a ton of books. The paperback store made the shelves using wood planks, so if you're handy, this is totally a project you could take on yourself (though maybe not for $5 a shelf).
Don't you love our 
"Yet the Lord Sustains Us"
quote? It's a quote from my book
When Lightning Struck!: The Story of Martin Luther,
and I'm so grateful that WiseDecor created this decal especially for the book launch, and sent me one for review. (Here's my review: I
love
it. What a great–and classy–reminder of God's sovereign care.) You can
order one
in colors that fit your room, if you'd like! Also, check out the
wonderful Scripture decals at WiseDecor
.

WiseDecor
is a great company, and their beautiful decals bring class to even the most eclectic of rooms.
We have the shelves organized by type of book. You can see that on the right (in the standard deep shelves), we house our non-fiction books and our hardcover literature.
In the paperback shelves, we have literature by series (I also keep some of our Christian fiction grouped by publishing house) at the top, then the books are shelved by the last name of the author. This system has been a great way for the boys to learn to learn to alphabetize–I just ask them to reshelve a book or to find one for me.
---

---
I keep multiple-author series together at the top of the shelves so the series will stay together. The Christian fiction is at the top because when the boys were young and wanted to read a book, I'd ask them to choose from the top three shelves. I didn't want them to accidentally grab something beyond their emotional maturity, or that required interaction from me. Now that they're older, they choose from the lower shelves, but I retain veto power (or the right to a commentary before they read). There are some things I don't want them to read until high school.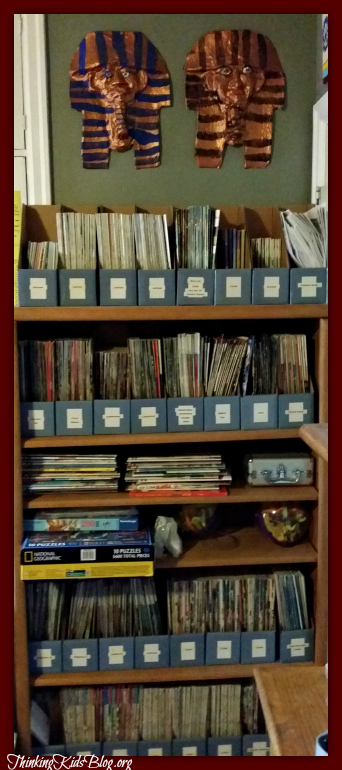 OK, let's go around the room, starting to the left of the door. This is a nice deep shelf where we house our children's magazines (see my favorite Christian magazines for
ages 3-12
, and for
middle and high school students
). We use basic
magazine holders
 and our
label maker
 to organize the magazines. Why so many magazines? I write for magazines, so it's good market research for me, but the boys absolutely love them as well.
We also house puzzles on this shelf as well as our stacks of Dover coloring books. Oh, how we love Dover's historical coloring books to go along with our history read-alouds!
---
---
Behind my couch (because I've commandeered the corner by the window), is the biography shelf. We shelve the books in order of the last name of the person being profiled. But the bottom shelf is all Christian Focus Publications. Have I mentioned I love their
Trailblazers series
?
I like to shove little memories onto the shelves. On our biography shelf, I have the Velveteen Rabbit I was given at my sister's funeral when I was nine, a photograph my aunt took of me when I told her I was pregnant with our first biological child (which we didn't think would happen) along with a nursery jar, a little tile one of the boys received at his baptism, and then a bunch of adorable cardboard bugs my youngest made. It's eclectic, but it makes me smile, and I think it gives the room character.
On the shelf behind the couch we have a power strip with all our electronics cords. It's our little hidden charging station.
Our large shelves hold all our history books, our hardcover literature, our curriculum, reference books, and on the right, we have books with world religion, "devotionals" (I use Christian living and theology books as devotionals), a couple shelves of Creation science books (mostly from
Master Books
).
The shelf to the far right has a little burgundy basket for pens and supplies, a stapler and scotch tape, and books I'm reading now. Also, there's a shofar. Because every kid loves to blow a shofar in the middle of reading the Old Testament–and because my mom brought it back from Israel. There's also a spelling tool from 1916 that belonged to my grandma.
We love to do hands-on projects as we're learning, and I love having them on the wall. Above you can see frescoes we made, a fun art project (frame any art project in mahogany frames and it looks like a work of art!), Styrofoam solar systems we assembled and painted, and a paper maché art project we worked on covering the changes to the territory occupied by the nation of Israel over time. That was a really fun project, and the kids learned a lot about how the Israelites served (or didn't serve God), and the direct consequences they suffered.
In the corner of the library, we have a television for watching educational DVDs, and my husband and I watch a movie streaming from Amazon Prime once a week while the boys read in their room. It's a nice date night for us. Under the maps of Israel, there's another shelf (which Ed made) with grown-up magazines, like
World
and
Christian History
.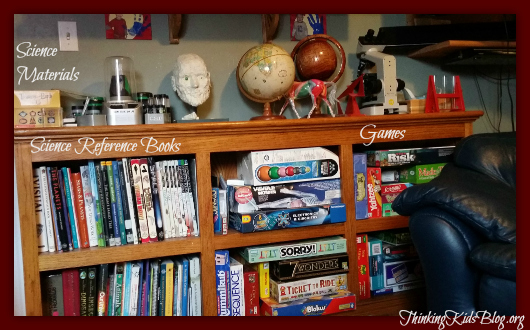 Last but not least, we have a shelf for our science materials and reference books, and our games. (Oh, how we love games–and science.) We bought this shelf (like the others) off Craigslist. It's all real oak (even the back) and was custom-made for a pastor's office to hold his theology books by one of the elders in his congregation. I think that's pretty neat. It's also super heavy.
Well, friends, now you've seen my very favorite room in our home. We have more bookshelves throughout our house, but this is where we like to hang out.
Remember, homemaking is all about making beautiful and welcoming that which the Lord has provided to you, so just take the ideas that work for your space and circumstances, and leave the rest.
---
More Posts You'll Love
My Book Log: A Notebooking Journey
The Absolutely Enormous List of Christian History Books
Best Books About Prayer For Families
26 Fabulous Christian Picture Books for Children
37 Reformation Books for Children and Teens
Build Your Library: For the Christian Home
Join the newsletter
Get the Family Prayer Box Project FREE!
Teach your children to pray with this fun project that includes 7 printable sets!