Want a history of the Bible timeline for your kids? You'll love this Bible history timeline chart — the perfect book for every home library.
---
The history of the Bible can be a little confusing, right? The Bible is mostly, but not entirely, chronological.
For instance, the prophets lived during the time of the kings. But which prophets lived during the reign of which kings?
---

---
Bible History is Important
As our kids study the Bible, it is important for them to learn Bible history.
Knowing the history of the Bible–and having a Bible timeline–is important. As our kids read through Scripture, they eventually gain a sense of time and space through the grand story of the Bible. But, what if we want them to be able to put biblical history into a timeline sooner?
---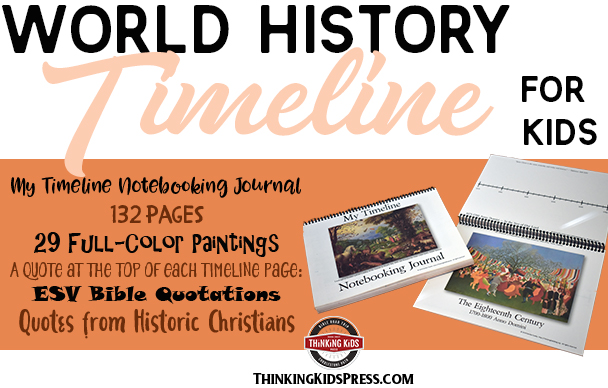 The My Timeline Notebooking Journal gives your children a hands-on way to keep track of dates.
It's the perfect companion to God's Bible Timeline!
---
Studying Bible history helps our children:
Understand the history of the grand story of the Bible
Put together the different books of the Bible in time and space
See the hand of God in the lives of individuals and in the Bible
Knit together secular and biblical history
See how character and life decisions impact history through Bible characters and their impact on biblical history
Understand the gospel of Jesus Christ
History of the Bible Timeline for Kids
I want to thank Christian Focus Publications for sending me a copy of God's Bible Timeline. This review is my own and is not sponsored.
Linda Finlayson writes fabulous resources on the Bible and Christian history for kids. Several years ago, she wrote God's Timeline about the history of the Church (see my review here). It's a book that should be in every home library.
Linda Finlayson's new book, God's Bible Timeline: The Big Book of Biblical History (Christian Focus Publications, 2020) is another wonderful history timeline book. Short Bible history overview articles are interspersed with colorful Bible history timeline charts.
A Bible timeline helps our kids:
Place important Bible history events, people, and movements in order relative to each other
Understand how many important biblical figures interacted and influenced each other
Understand God's great plan for salvation
Learn about God's story of his Chosen People, the Israelites
See God's protection of his bride, the Church
Linda Finlayson has written and designed a visually stunning Bible history timeline chart and book to help your children truly understand the overview of biblical history.
God's Bible Timeline: The Big Book of Biblical History is just the reference book you need for your elementary and middle school students. Part read-aloud and part visual reference, this book will be one worth keeping on your shelves for the grandkids.
---
Wonderful Bible History by Linda Finlayson from Christian Focus Publications
I love all of these books–they are a fabulous addition to every home library!
God's Bible Timeline: The Big Book of Biblical History
God's Timeline: The Big Book of Church History
Guarding the Treasure: How God's People Preserve God's Word
Wielding the Sword: Preachers and Teachers of God's Word
---
God's Bible Timeline is divided into six sections of Bible history timeline:
Creation to the Promised Land
Living in the Promised Land
From One Kingdom to Two
Exile and Return
The Messiah
The Early Church
Each section of Biblical history has four double-paged spreads of a Bible history timeline for that period.
The six Bible history sections begin with an overview of the period, and there are several articles interspersed with history timeline charts in each section.
The Biblical history articles cover topics including:
In the Beginning
Who are the Patriarchs? What about Job?
Maps and Diagrams of: Abraham's World, Israel's Wanderings, the Tabernacle, Cities of Refuge, Israel's Neighbors, the Divided Kingdoms, Paul's Journeys, and more
A Slave and a Prince
Long Lists of Names
Saul: The King who Got it Wrong
David: The Soldier/Musician King
Solomon the Builder
Solomon the Writer
What Makes a Prophet?
The Assyrians are Coming!
Down with the Assyrians and Up with the Babylonians
Those Persians
And more…
---
More Great Christian History Resources
Who was Martin Luther? (Who What Why)
What was the Gutenberg Bible? (Who What Why)
Why did the Reformation Happen? (Who What Why)
When Lightning Struck!: The Story of Martin Luther
History Lives Box Set: Chronicles of the Church
Trailblazer Evangelists & Pioneers Box Set 1 (Trail Blazers)
Trailblazer Missionaries & Medics Box Set 2 (Trail Blazers)
Trailblazer Preachers & Teachers Box Set 3 (Trail Blazers)
Trailblazer Reformers & Activists Box Set 4 (Trail Blazers)
Trailblazer Heroes & Heroines Box Set 5 (Trail Blazers)
Trailblazer Arts & Science Box Set 6 (Trail Blazers)
Little Lights Box Set 1
Little Lights Box Set 2
Little Lights Box Set 3
---
Your kids will finish 
God's Bible Timeline 
with a clear view of how Scripture fits together in time and space to tell God's story to his people.
God's Bible Timeline: The Big Book of Biblical History
is a valuable resource that no family bookshelf should be without. I highly recommend it for your family as an heirloom you will use over and over again in discipling your kids. It will be one they will enjoy exploring on their own as well.
---
Purchase God's Bible Timeline: The Big Book of Biblical History
God's Bible Timeline: The Big Book of Biblical History
---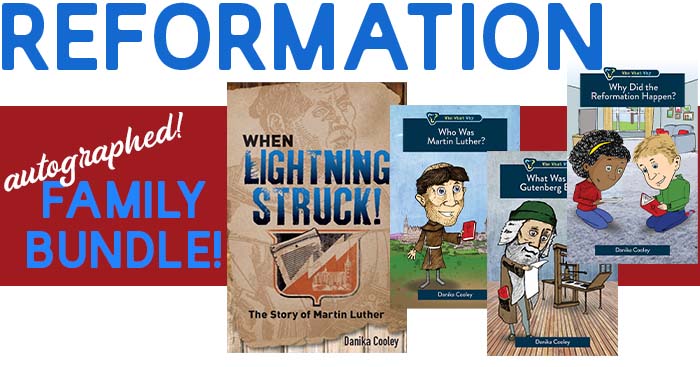 Your kids will love the Who What Why Reformation series with illustrated narratives for 8-11 year olds.
And, Martin Luther's young adult historical fiction story makes the perfect family read aloud!
Grab the autographed Reformation Family Bundle!
---

Christian Biographies for Kids | Christian History for Kids | Theology for Kids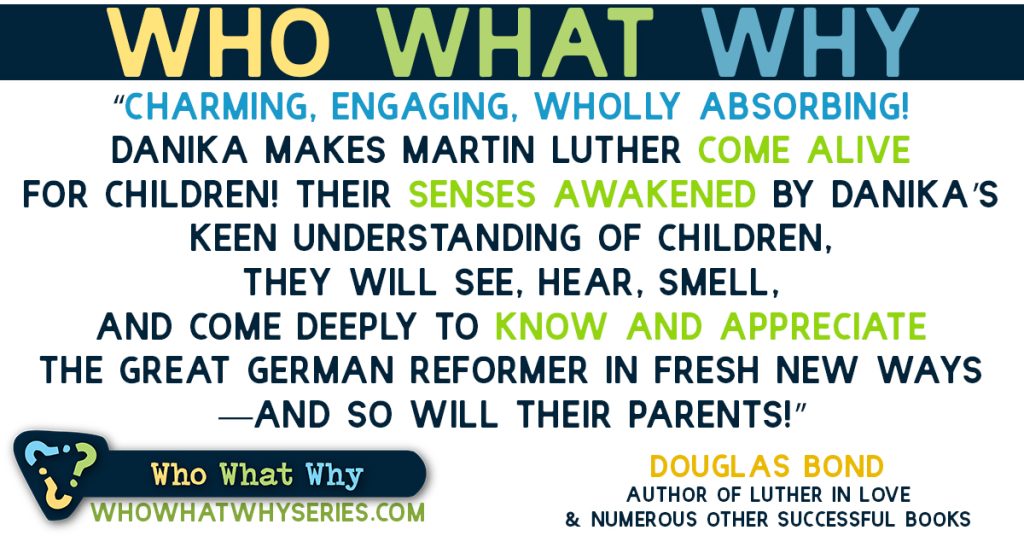 "As for the saints in the land, they are the excellent ones, in whom is all my delight." – Psalm 16:3, ESV  
Christian History Matters for Our Kids.
History matters. Now, more than ever, we see how important it is for our children to know and understand history and the Bible.
Here's why:
God is the sovereign ruler of all things. It's important for our kids to see his hand in the history of nations and in the lives of both peasants and kings. 

Christian history is the story of our family history. Our kids get to see how people who love Jesus follow him.

Understanding history can help our kids learn historic and biblical theology. They learn what the Bible says and what that means for us. They also see when the study of Scripture has taken important turns that have changed the Church.   

Reading Christian biographies and history can be a wonderful way for kids to think outside their own time and culture. God's Church spans centuries and includes people from every nation.    

Christian biographies help kids consider their own faith, walk with Jesus, and the impact their witness may one day have on others–and on history. 
Elementary-aged kids need middle grade resources that are fun, a little sassy, and that teach valuable lessons. 

The Who What Why Series is the perfect resource to teach your kids about history, while helping them apply biblical truths to their lives today.
---
More Thinking Kids Posts You'll Love
---
Join the newsletter
Get the Family Prayer Box Project FREE!
Teach your children to pray with this fun project that includes 7 printable sets!