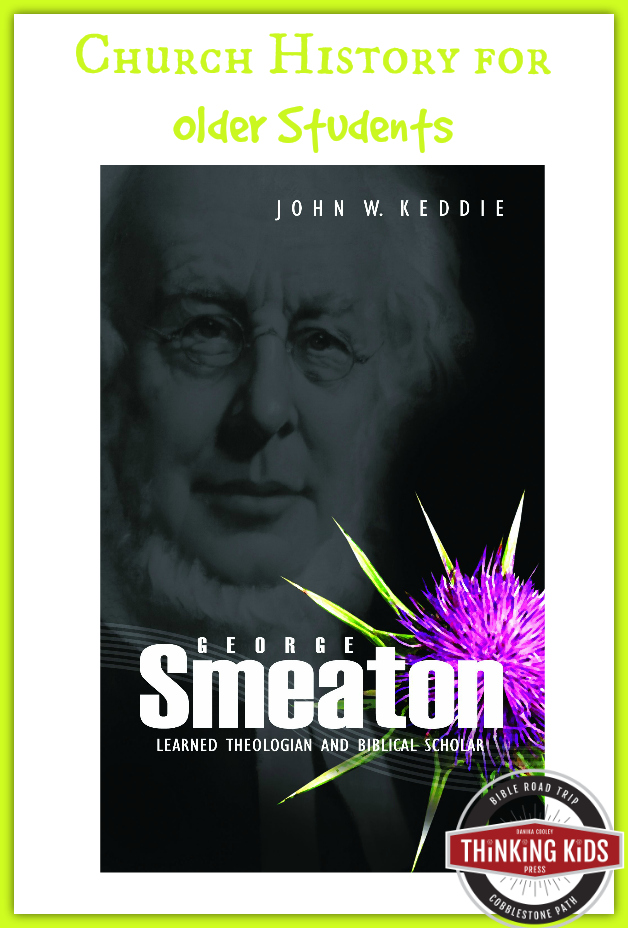 I'd like to thank EP Books for giving me a copy of George Smeaton by John W. Keddie in return for my honest review.
George Smeaton (1814-1889) was a fascinating figure in Church history. He was a theologian in Scotland during a central time in the church's fight for biblical theology. Because George Smeaton dealt with Scriptural exposition, scholarship, and teaching, he's not the typical subject of a Christian history biography. Yet, I think there's much for older students to learn from his battle to maintain a biblical perspective in the seminary and within the church itself.
John W. Keddie has written a solid biography on the scholar, which at a quick glance appears to be the only of its kind available. George Smeaton: Learned Theologian and Bible Scholar is available from Evangelical Press (2007). The book is 183 pages (213 with the biographical information included), and is a manageable size for high school students to read in a couple of weeks.
George Smeaton was a natural-born scholar with a love of orthodox Christian beliefs, specifically holding to a Reformed or Calvinist view of theology. He spent his life preaching and teaching God's Word in his native Scotland during a time of religious upheaval and change. He played a part in the Great Disruption and the founding of Scotland's Free Church. The biography is not told in a narrative or story format; it's written in a more scholarly format with topical divisions. As someone who wasn't terribly familiar with the history of the church in Scotland, I did a little additional research to understand what happened during this time period. It may be helpful to students to study the Great Disruption and the later Union Controversy (even if it just means reading about them on Wikipedia) before covering George Smeaton.
It was around page 100 that I found the book (for me) became fascinating. George Smeaton was involved in preaching, writing and teaching about the Bible in both his church and in the seminary he taught at. It was during the 1860s and 1870s that the authority and integrity of the Bible came under systematic attack from within the church and seminary themselves. As I've spent time researching for Bible Road Trip, my awareness of the institution and tenacity of "Bible Criticism" has grown. For over a century, liberal theology has imbedded itself within the institutions we use to teach our preachers and scholars. In doing so, it has undermined the position that the Bible is God's authoritative, inspired, and inerrant Word. George Smeaton fought against the birth of this teaching and the many changes it brought within Scotland. I found his battle very interesting.
As I've mentioned before, John W. Keddie has written this as a scholarly biography, so the different areas of theology addressed are contained within separate chapters. Still, the language is quite accessible and (again) appropriate for high school students. I cannot say the same about many biographies I've read.
George Smeaton wrote a number of important works, including one on the Holy Spirit (which I'd now really like to read), and two on the Atonement. The volume of his work in journals cannot be estimated, as many of the articles from his time period are unattributed. When he died, Smeaton's library contained more than 15,ooo books on varying issues.
In my estimation, George Smeaton was quiet warrior, applying the gifts God gave him to the battle in front of him. If you have a student with similar gifts and an affinity for theology, I think this book is a must-read. The parallels between the battles George Smeaton fought and the theological war still raging today are clear. It's interesting to see how liberal theology took hold in Scotland, and how the changes in Scotland were impacted by evangelical crusades in other countries (like, *ahem*, the United States). Scotland's theology, in turn, affected other church bodies.
George Smeaton is a quiet book. There are no hair-raising stories of harrowing courage on foreign soil in the pursuit of the gospel. Instead, it's the story of a man who dared to educate himself in Scripture and theology and then stood firmly against the tide, clinging to the gospel.
Enter to win a copy of George Smeaton. Giveaway ends on 1/23/2015 at 10am PST.
George Smeaton by John W. Keddie (EP Books)

George Smeaton would coordinate well with studies involving
Scotland

The 19th Century
Reformed Theology
Liberal Theology
DL Moody, CH Spurgeon, Robert Murray M'Cheyne
You can find George Smeaton at
Bitesize Biographies from EP Books
Other Bitesize Biographies reviewed at Thinking Kids:
Other books for older students reviewed on Thinking Kids:
Thinking Kids Book Review Indexes
Thinking Kids Pinterest Book Boards
Join the newsletter
Get the Family Prayer Box Project FREE!
Teach your children to pray with this fun project that includes 7 printable sets!