This George Mueller biography is perfect for teens. They'll love the story of George Muller – his prayers and orphanages.
---
I love the stories of people who love Jesus and take care of children because they love Him. George Muller, Gladys Aylward, Mary Slessor, and Lillian Trasher are among my favorite Christians to read about.
I especially love the story of George Muller (1805-1898), who trusted God in prayer for every need. He meticulously recorded his needs, his prayers, and God's answers, reporting those throughout his lifetime for the glory of God.
It's inspiring to hear of God's faithfulness in the life of another, isn't it? It's such a good reminder that God is sovereign, that He is mighty, and that He involves Himself in the affairs of mere humans when we petition Him. It's also inspiring to read of the faithful service of another in the Lord's service. I think we benefit from stories of the saints who have pursued God's glory above all else.
I think reading about God's faithfulness, and about the faithful commitment of our Christian brothers and sisters, can be especially important in the lives of young men and women. After all, middle and high school students are forming ideas of who they'd like to be and how they'd like to live. They are clarifying their ideas of who God is and how He cares for His own.
---

---
George Mueller Biography
George Muller by Joan Ripley Smith (EP Books, 2014) was an especially enjoyable read. Mrs. Smith has done a wonderful job of opening each chapter in a narrative manner, and her stories and accounts of Muller were engaging. Moreover, her book covered aspects of Muller's story and accounts of God's faithfulness that aren't present in many of the biographies of Muller for younger kids. Even if your children read a biography of Muller two or three years ago, Mrs. Smith's biography will allow them a fresh look and a deeper understanding of this fascinating figure.
Another aspect of the book I really appreciate is the testimony of Muller's conversion. Saved at age 20, he was an unabashed thief, drunk, and ladies' man prior to salvation. (The exact details of his womanizing are not shared, but it is clear he was not living for the Lord.) The change in Muller's life was significant. Once a spoiled rich sinner, he became a considerate, quiet-spirited, generous father to thousands. What a story of God's grace and mercy! I think these radical conversion stories are also important for students.
George Muller is truly a wonderful biography. I just feel blessed to be able to give my children the gift of reading it next year when we study the 19th century again. I feel blessed to have been able to read it myself. God is growing my understanding of his faithfulness and sovereignty daily, and this book was a valuable voice for me on the importance of prayer.
Joan Ripley Smith was a Christian school teacher and is now a librarian. She has written for A Beka (Growing Up Where Jesus Lived) and is married with three daughters and five grandchildren. Her written voice is warm and interesting, which is–I'm certain–a reflection of that history with children.
---
George Muller would coordinate well with studies involving
The 19th Century
Missions
Orphanages / Adoption
Prayer
Faith
---
Purchase George Muller 
I'd like to thank EP Books for giving me a copy of George Muller by Joan Ripley Smith in return for my honest review.
---
Resources on George Mueller for the rest of your family
---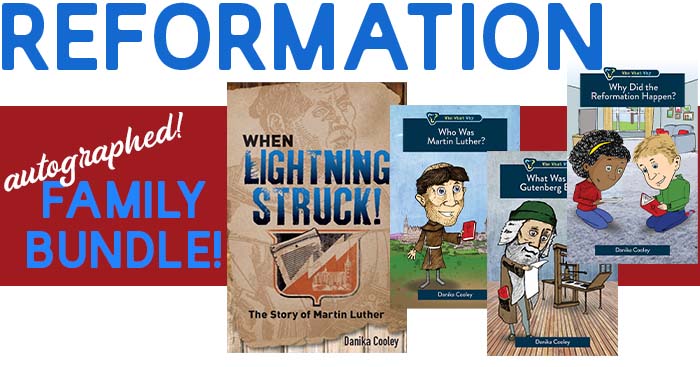 Your kids will love the Who What Why Reformation series with illustrated narratives for 8-11 year olds.
And, Martin Luther's young adult historical fiction story makes the perfect family read aloud!
Grab the autographed Reformation Family Bundle!
---
Martin Luther and the Reformation
Teach your teens about Martin Luther and the Reformation in an exciting, new way with When Lightning Struck!: The Story of Martin Luther!
Martin Luther (1483-1546) is often referred to as "The Father of the Reformation". Born during a time of superstition, tradition, and spiritual corruption, Luther gave up a lucrative career as a lawyer to become a monk in the Roman Catholic Church–a path he felt would certainly lead to salvation.
As Luther's understanding of the spiritual corruption within the Church grew, and he despaired of true salvation, Luther (now a scholar and priest) sought the Bible for answers. Following his discovery of the true gospel in Scripture, Luther began to preach spiritual freedom to his congregation, and to teach biblical (rather than philosophical) theology at the University of Wittenberg.
It was on October 31, 1517 that Martin Luther penned his Ninety-Five Theses in Latin in response to the abusive indulgence sales practices of the monk Johann Tetzel in a nearby town. Luther nailed the Theses to the door of the Wittenberg Castle Church, the scholarly bulletin board of his day, and mailed a copy to the Archbishop of Mainz. Luther hoped to start a scholarly debate about the practice of selling salvation through plenary indulgences. The response he received was greater–and more dangerous–than he imagined it would be.
Luther's story is exciting. There are death defying moments, epic spiritual battles, narrow escapes, a kidnapping, revolution, and war. As the "Father of the Reformation", Luther is a vital figure in Church history. His sacrifice and willingness to wage battle against the spiritual, religious, and political powers of his medieval world allowed Christians throughout time to embrace the truth of salvation by grace alone through faith alone in Christ alone as explained by Scripture alone once again. May all glory be to God alone!
Read portions of the first eight chapters of When Lightning Struck!:
---
More Thinking Kids Posts You'll Love!
---
Join the newsletter
Get the Family Prayer Box Project FREE!
Teach your children to pray with this fun project that includes 7 printable sets!