This past fall, my new book
When Lightning Struck!: The Story of Martin Luther
for middle and high school students published with Fortress Press. That was truly a dream come true for me, and it was a project I'd worked on for several years. I've been so blessed by your support and enthusiasm.
Thank you so much if you have purchased a copy, and shared the book with your children! I cannot tell you how much that means to me. You may remember that I wrote two guides to go with When Lightning Struck!: a Discussion Guide and a 12-week Martin Luther Study Guide. Those are still free here on Thinking Kids; they are resources I'm excited to share with you.
Fortress Press also published Tim Dowley's Atlas of the European Reformations this fall, and it's an excellent overview of the Protestant Reformation and the resulting Catholic Reformation for grades 4-12. To help you fully utilize this resource in your home or school, I've written a Study Guide for the Atlas, and Fortress Press has given me permission to give it to Thinking Kids subscribers for free.
Atlas of the European Reformations by Tim Dowley
The Atlas of the European Reformations is valuable overview of the Reformation Age. There are four sections: Before the Reformation, Reformation, Catholic Reform and Counter-Reformation, and Early Modern Europe. Students get an overview of what led to the Reformations, what occurred during the Reformations, and what happened after.
Each of the 60 maps has a brief overview with it. The maps are fascinating, as they really communicate the scope of each topic being discussed. Students learn about important figures in the Reformation period, as well as movements, conflicts, and how the Reformations affected different nations.
The narrative is careful to avoid bias, and both the reform of the Roman Catholic Church and the Protestant Reformation are covered. This is a great overview of the period, and unlike anything I've seen. I like the fact that the Atlas covers the Catholic reform and missions as well. Though we are not Catholic, I want my boys to understand that part of history.
Amazon: Atlas of the European Reformations
Christian Book: Atlas of the European Reformations
Atlas of the European Reformations Study Guide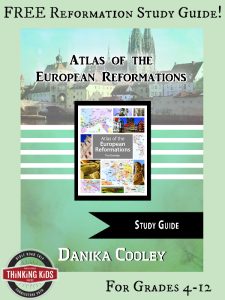 The Atlas of the European Reformation Study Guide is a 56 page digital resource, free to Thinking Kids subscribers.
Subscribe here to receive your study guide:

The Study Guide includes:
A brief overview of each section
Discussion questions for each map
Vocabulary
Related literature by grade level (Grades 4 and up)
Scripture to consider
Because this guide is meant to facilitate discussion and understanding as students learn about the European Reformations, no formal schedule has been included. You can work through the Atlas as it fits your schedule, and easily coordinate it with any history curriculum you are using.
The guide is divided into four sections, as is the book. You'll find an overview of each section of history.
Each of the 60 maps and overviews has a set of discussion questions for students to consider, as well as related vocabulary definitions in language students can understand. You'll also find fine art related to the period on the discussion pages throughout. History is the perfect time to study art, so the pieces and the artists are all clearly identified on the same page as the artwork.
The related literature lists contain excellent works that will deepen your student's understanding of the time period. None of the books are required (indeed, there are too many listed to use them all), and many can be located at your local library, though each would make an excellent addition to your home or church library. Further, you will find periodic "Scripture to Consider" sections, with a scripture reference and discussion questions.
More Reformation Christian History Resources
FREE: When Lightning Struck!: The Story of Martin Luther Discussion Guide
FREE: Martin Luther 12-Week Unit Study
Cobblestone Path Church History Research Journal ~ The Reformation Age
Learn about Cobblestone Path
Purchase
---
More Posts You'll Love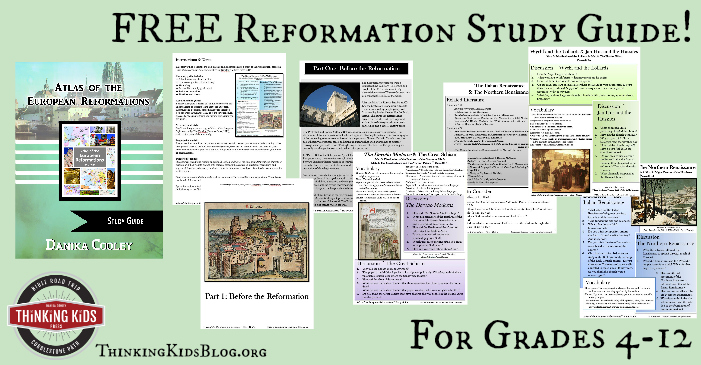 Join the newsletter
Get the Family Prayer Box Project FREE!
Teach your children to pray with this fun project that includes 7 printable sets!