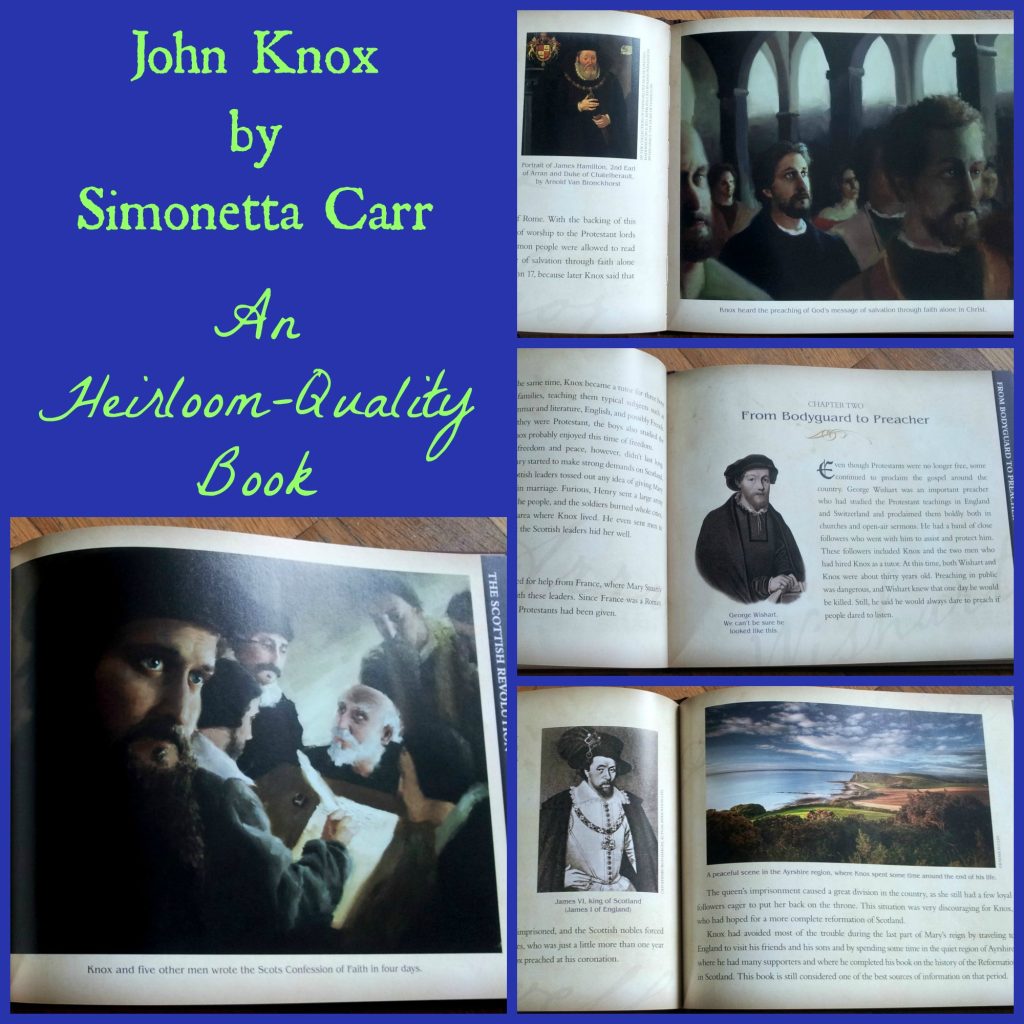 I want to thank Cross Focused Reviews and Reformation Heritage Books for providing me with a copy of John Knox by Simonetta Carr in return for my honest opinion.
John Knox (c.1514-1572) was an unlikely choice for the leader of the Reformation in Scotland. He was a tutor and a bodyguard, a young man newly awakened to the truth of Scripture, yet he wasn't a preacher. In fact, when Knox was pressed upon to preach by the newly Reformed around him, he wept in dismay. Yet God looks at the heart, not at our circumstances. John Knox proved to be a central and important figure in history. His effort to teach the truth of Scripture — that we are saved by grace through faith — had a profound effect on the Church in Scotland as well as on the history of Scotland, England, and France. Knox' writings and travels allowed him to interact with people such as Mary Stuart, "Bloody Mary" of England, Queen Elizabeth I, and John Calvin.
Simonetta Carr has written another outstanding book for her Christian Biographies for Young Readers series. John Knox (Reformation Heritage Books, 2014) is the seventh in a line of spectacularly beautiful and well-written biographies for children ages 7-12.

There are photographs of historical structures and documents, paintings of events and figures, and wonderful artwork by Matt Abraxas. The pages are thick and parchment-colored.  The
Christian Biographies for Young Readers
series are heirloom-quality books.
In addition to seven short chapters on the life of John Knox, the book includes a timeline, interesting fact, and the Scots Confession of faith.
Simonetta Carr's writing style is warmly conversational.  She explains the issues which faced Knox, yet handles sensitive subjects respectfully.  Some issues — such as the marriages and adultery of Mary Stuart — are important to the story of Knox' life, but could be thorny to address with someone else's children. Yet, Carr does a good job of telling the story and allowing kids to see the consequences of sin without being preachy or inappropriate.
John Knox by Simonetta Carr is worth adding to your family's reading — and to your family library. It's a well-written, well-produced book that serves multiple ages, and it's pretty enough to lie on your coffee table when your friends are visiting.
This book would coordinate well with studies involving:
The Reformation
Scotland
England
The Reigns of Mary Stuart, Queen of Scots; King Henry VIII and his offspring: King Edward, Mary Tudor, Queen Elizabeth I, King James I of England
The King James Version of the Bible
John Calvin
Other books in Simonetta Carr's line
Purchase John Knox at
More Books for 8-12 Year Olds Reviewed at Thinking Kids
Thinking Kids Book Review Indexes
Thinking Kids Pinterest Book Boards
Join the newsletter
Get the Family Prayer Box Project FREE!
Teach your children to pray with this fun project that includes 7 printable sets!