This guest post is from my friend, Anne Marie, of Future Flying Saucers.
---
Talking out of turn. Bodies wiggling. Hands up. Walking around the room. Giggling with a friend…
Does this describe your Bible lessons for kids time at home or at church?
Imagine a Bible homeschool lesson or a church classroom filled with engaged kids listening to you and asking questions and answering yours…
---

---
Bible Lessons for Kids
You can have that type of experience in your Bible lessons for kids!
With every section of scripture you can use 6 questions to enhance the learning in your classroom.
Let's pretend that you are teaching the historical event of Noah. You probably know those events well.
So think…
WHO? is in this event?
WHAT? does God say is going to happen?
WHERE? will this event take place?
WHEN? will this event take place?
WHY? will the flood happen?
HOW? did Noah respond to God?

…And you can probably come up with more 5 W's and 1 H questions for that event, but you get the idea. By asking these questions, you will get kids to begin thinking about the text they heard or read. They will begin to consider the details of the event. And the details don't match the movie OR the cute little posters you can put up in baby nurseries.
---
Asking Questions about the Bible Lessons with Kids
And if you add in MORE questions that deal with the 5 senses, then you will have a Bible lesson that begins to touch your kids on a personal level.
WHAT would Noah have seen as the door was closed?

WHAT would he have heard?
WHAT would he have felt for those who were not on the ark?
HOW long would they have to be on that ark?
I wonder if those animals stunk after a while?
---
Walk This Way: Ethics and Sanctification Lessons for Kids
What God Is Doing: Old Testament Object Lessons for Kids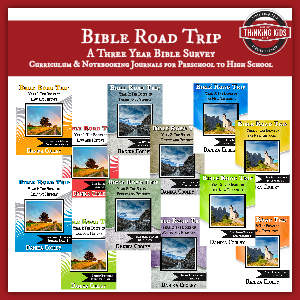 Bible Road Trip: A 3-Year Bible Curriculum
---
An Effective Method in Bible Lessons for Kids
Making the scripture accounts come to life makes the Bible interesting. But if you can personalize it, it will revolutionize your teaching. Ask more questions!
If God asked you to build an ark, would you?

What if people started making fun of you, would you still build it?
How would you feel if your friends wanted nothing to do with your ark?
Does God still save people from floods today?
How does God save people from death?
Has God saved YOU from death?
How do you know?
How do you feel when your friends want nothing to do with Jesus?
What can you do to tell your friends about Jesus?
Jesus used questions a lot in His ministry. They can be extremely powerful…
…because spiritual maturity is a "funny" thing.
I don't know about you, but I can read the same scripture over the years and I gain something new from it as I grow older.
Our kids are no different.
"But they think they know it all and are bored stiff!" you might say.
"They won't listen!"
Maybe the problem isn't the kids.
Perhaps it's HOW the scriptures are being taught or introduced. Perhaps it's our expectations.
We've got to get children thinking critically about Bible events on THEIR spiritual maturity level.
---
Questions Help the Teacher During Bible Lessons for Kids
Understanding that each child is at a different spiritual maturity level can help you with behavior issues, bad attitudes, and a lack of Bible knowledge and wisdom.
1) If a child isn't following Jesus – These kids need to hear the gospel over and over. The gospel needs to be presented in different ways. They need to hear about sin and WHY they need a Savior. We cannot expect these kids to act like people who have been changed by Jesus.
2) If a child is choosing to follow Jesus – These kids need to know HOW to deal with sin and HOW they should live for Christ. And the Bible tells us that there are babies in Christ and then those who are ready for meat. Children are no different.
So how do you, the Bible teacher, figure out the spiritual maturity level of a child?
By asking questions like I listed above.
The answers you receive will help you to learn how mature you children are when it comes to doctrine and theology.
Asking questions will open up discussions about life changing events and topics. The answers will give you great insight into the hearts of the kids you are teaching and the struggles they have.
Asking questions shows children you are genuinely interested in what they have to say. And when you care about what they have to say, they will dialogue with you.
And the Bible then because interesting, engaging, and applicable.
And that's what we want.
---
 Anne Marie has a graduate degree in education with a focus on developing curriculum and instruction. Her life journey includes over 25 years in Children's Ministry. She is the founder of www.futureflyingsaucers.com where she shares creative, engaging resources so parents and teachers can share Jesus with confidence. She owns the Facebook group Bible Lessons for Kids and is the author of Walk This Way: Ethics and Sanctification Lessons for Kids and What God is Saying: Old Testament Object Lessons for Kids.
---
Teach Your Kids the Bible with Bible Road Trip™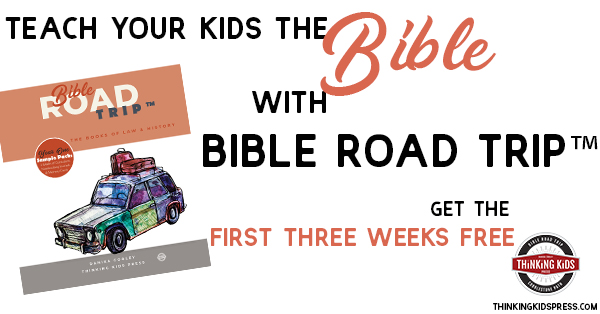 Bible Road Trip™ is a three-year Bible survey curriculum. Take your family through the Bible five times from preschool to high school.
To help you get the most out of your studies, Bible Road Trip™ has an array of coordinating weekly activities:
Researching the section of the Bible you're studying
Reading and discussing the Bible
Memorizing Scripture
Notebooking about your studies
Praying for the nations
Suggestions for further study
Crafting about what you've learned
For your older students: A project to share what they've learned
Bible Road Trip™ also has some great tools you can use along with it, such as:

Notebooking Journals for grades 1-9. Want a structured notebooking journal for high school? Don't hesitate to use the Dialectic journal (grades 7-9).
Bible Memory Card Sets for all five levels of study, preschool to high school. These are available in both ESV and KJV.
Grab your Bible Road Trip™ Year One Sample Pack. You'll get:
The Bible Road Trip™ Parent / Teacher Guide.
The first three weeks of the curriculum for all five learning levels. Week Three is where we really dive into the Bible and begin to our systematic study. Week Three will give you a good feel for the rest of the curriculum.
The first three weeks of the Bible Memory Card sets for all five levels, in ESV and KJV.
The first three weeks of each of the three leveled Notebooking Journals.
Join the Thinking Kids newsletter, and get encouragement, free gifts, exclusive offers, and this Sample Pack for FREE:
Disciple your kids by taking your family through the Bible together in a meaningful way!
---
Bible Curriculum for Your Kids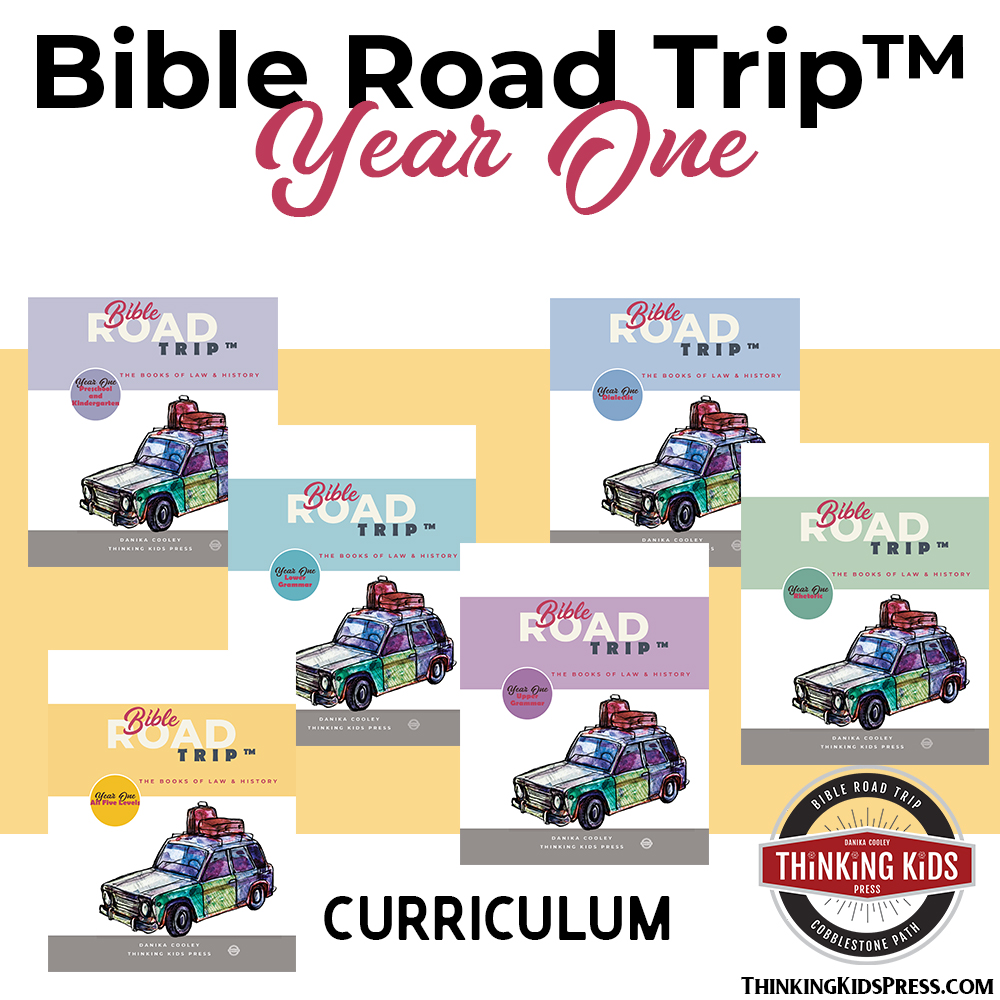 Bible Road Trip™ CurriculumLearn More Here
Bible Road Trip™ Memory Verse CardsBuy Here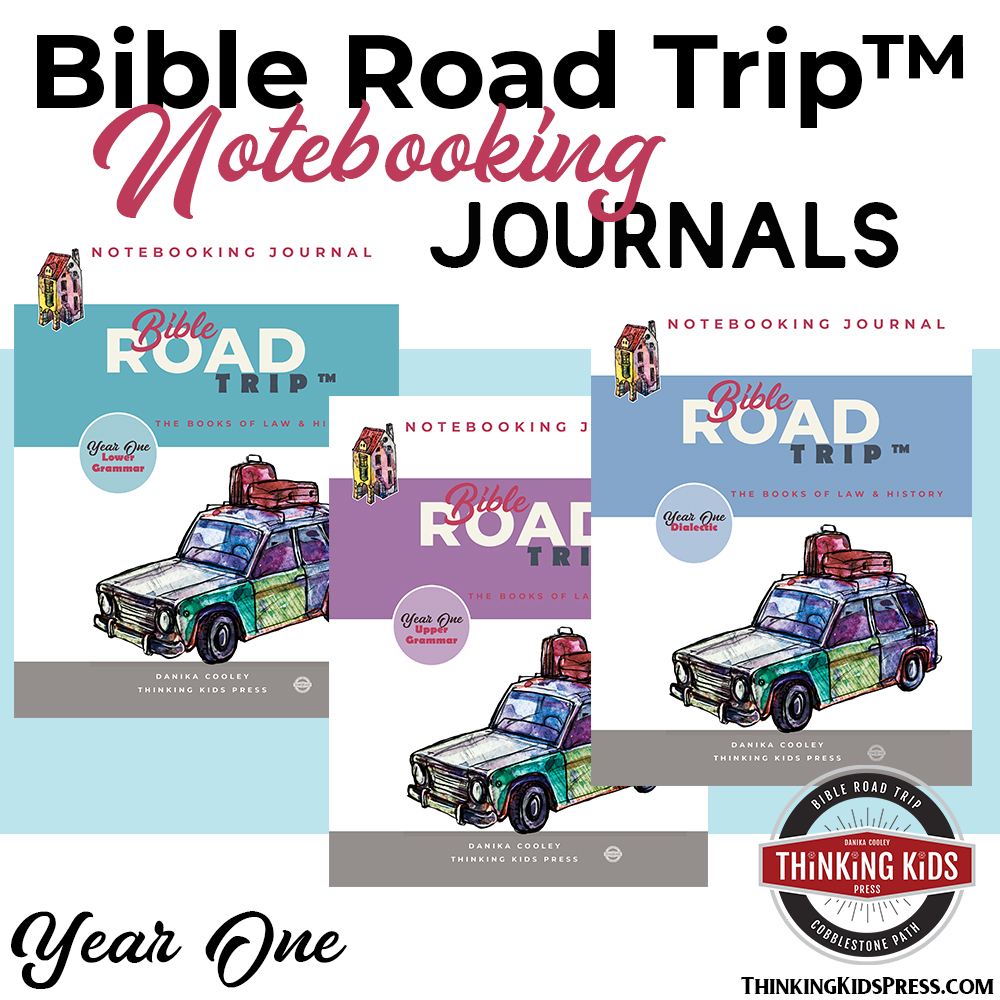 Bible Road Trip™ Notebooking JournalsBuy Here
---
Bible Road Trip™ Posts You'll Love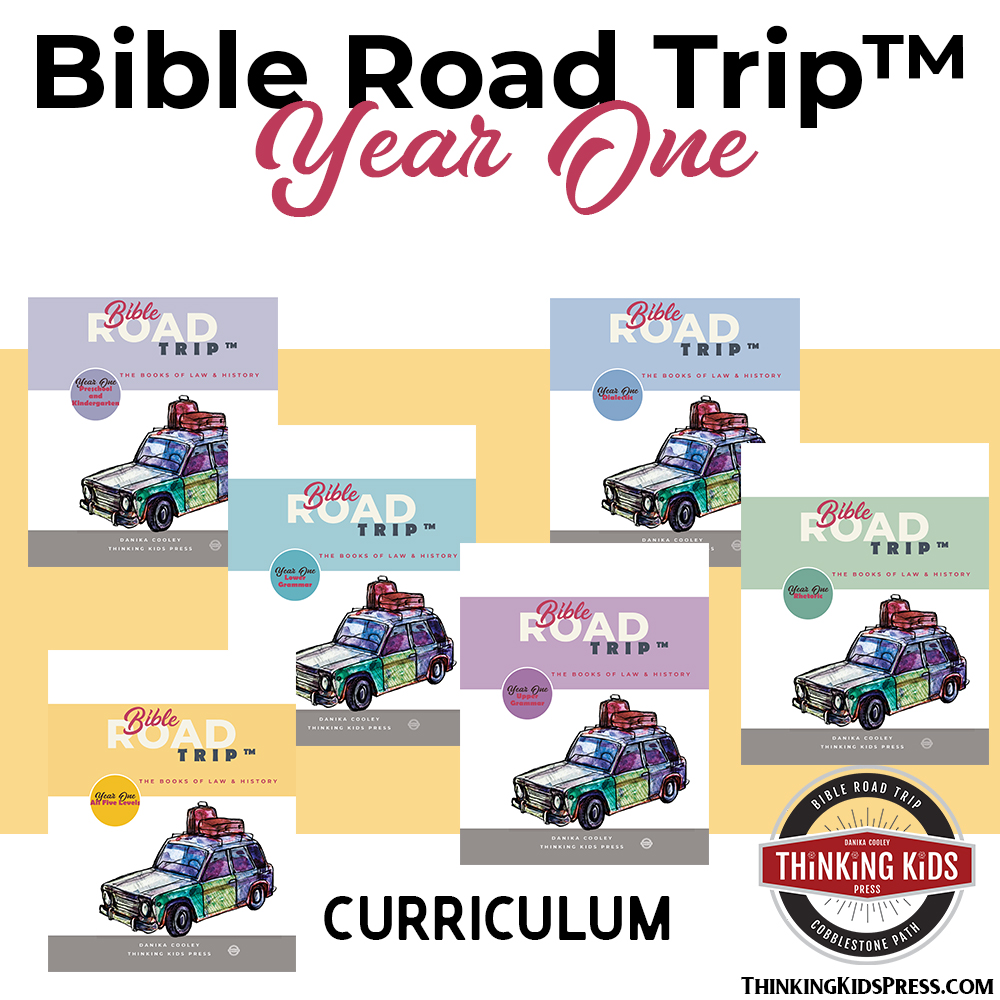 Bible Road Trip™ Year One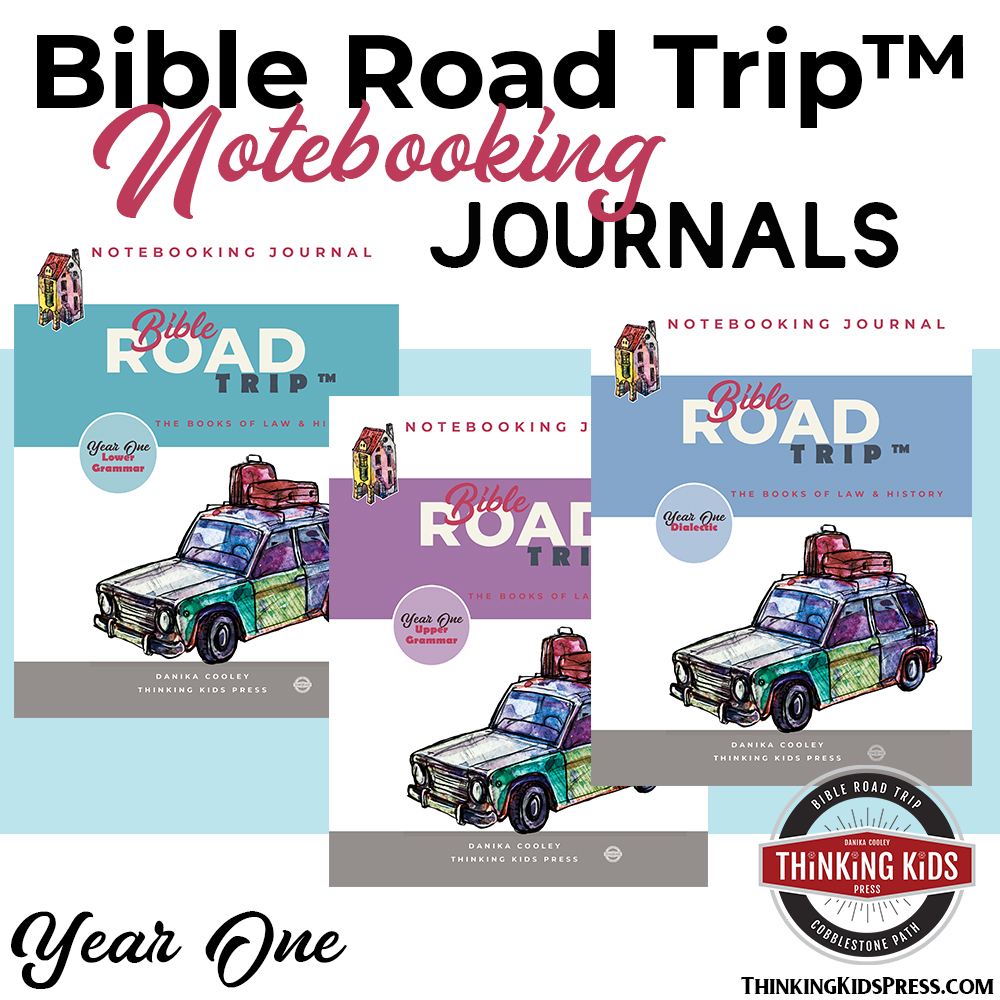 Bible Road Trip™ Year One Notebooking Journals
How to Study the Bible at Home (Even If You Haven't Read It)
How to use Bible Notebooking Pages to Teach the Bible
Levels of Learning the Bible for Kids
Teach Kids the Bible Using the Bible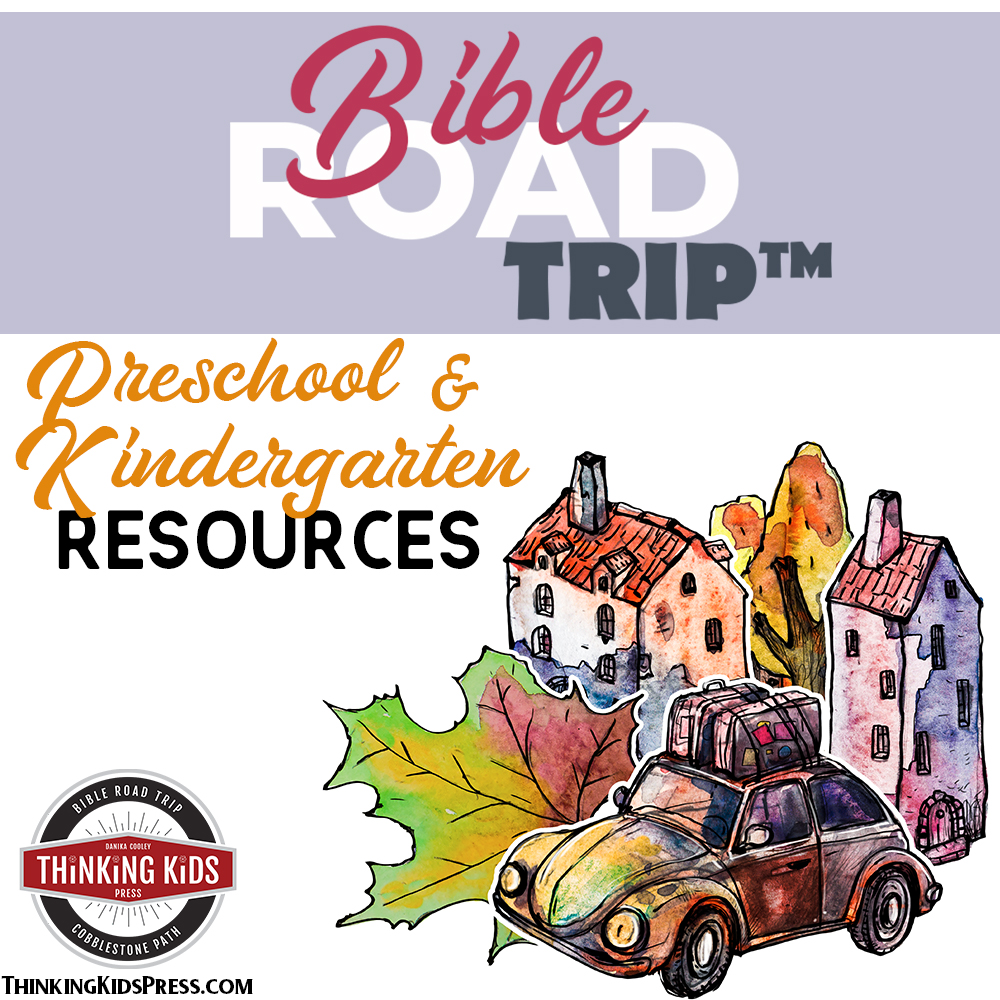 Bible Road Trip™ Preschool and Kindergarten Resources
Bible Road Trip™ Lower Grammar Resources
Bible Road Trip™ Upper Grammar Resources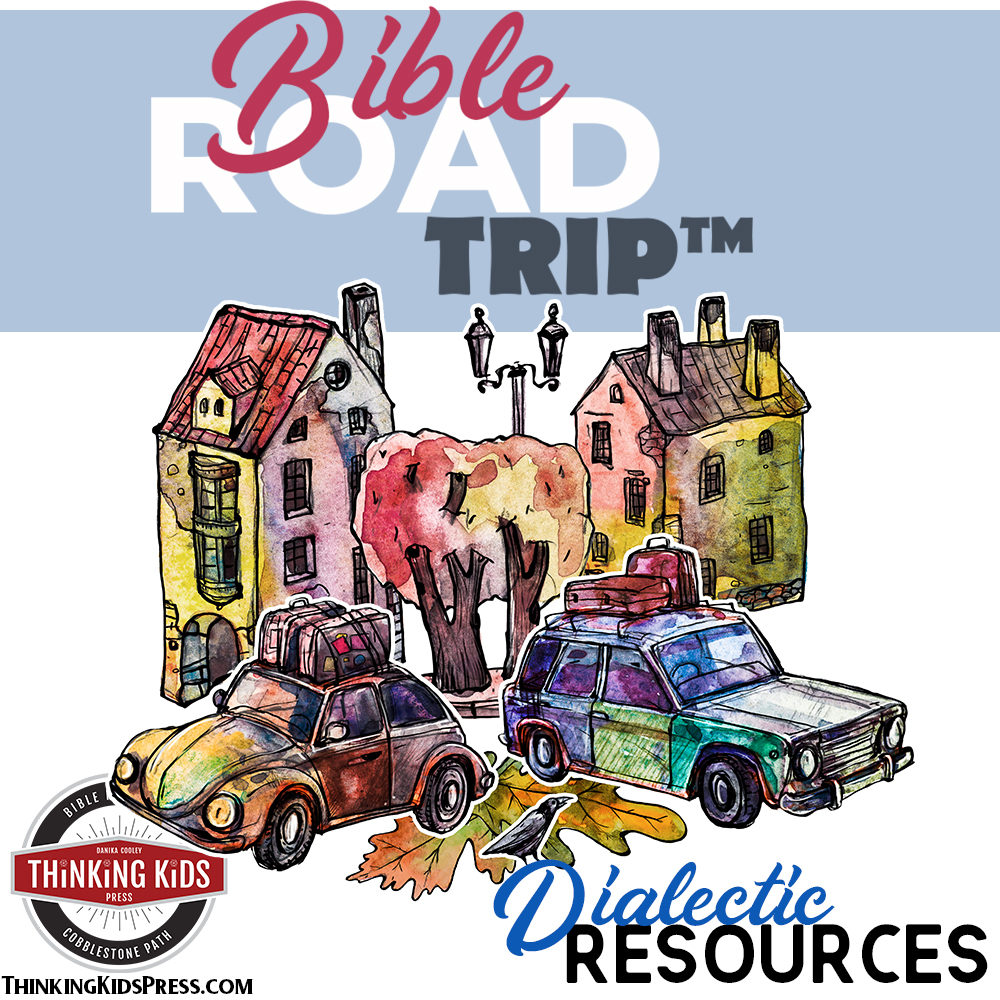 Bible Road Trip™ Dialectic Resources
Bible Road Trip™ Rhetoric Resources
---
Join the newsletter
Get the Family Prayer Box Project FREE!
Teach your children to pray with this fun project that includes 7 printable sets!