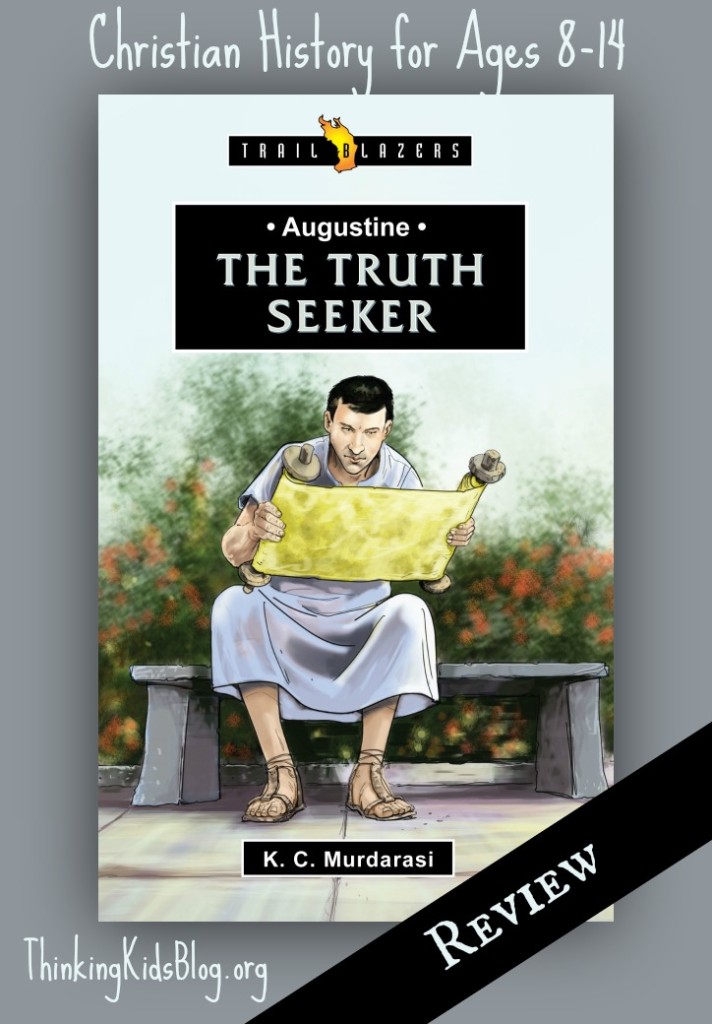 I'd like to thank Christian Focus Publications for giving me a copy of Augustine: The Truth Seeker by K.C. Murdarasi in return for my honest review.
It's difficult to study Christian history, theology, or the history of western civilization in general without coming across the name of Augustine of Hippo. In fact, when I took an introductory course in the history of the Christian Church in college, Augustine's Confessions was the first book we read. I certainly would have benefited from a deeper understanding of the man's story and importance before I undertook a reading of his work.
Next year, the boys and I will be studying history (again) from Creation until the Fall of Rome in 476AD. I was really excited to see the addition of a narrative biography on Augustine to Christian Focus 4 Kids' Trail Blazers line for children ages 8-14! For us, this is perfect timing, and I've been hoping they would add some of the Church Fathers to their ever-growing line of books.
Augustine: The Truth Seeker by K. C. Murdarasi (who holds a masters in Ancient History and is a retired missionary) is a wonderfully interesting version of Augustine's life story. Ms. Murdarasi has done a wonderful job of bringing Augustine to life for middle grade kids, and allowing them to become acquainted with an important figure in Church history. Her story added details and fleshed out my own understanding of Augustine's life, his spiritual journey, and his relationship with his mother Monica.
One thing to be aware of in the story of Augustine (because I don't want you to be caught unaware), is that the man was a philanderer. He was saved later in life… after affairs, an illegitimate son, and a common law "wife" (who he abandoned in pursuit of his own societal advancement). It shouldn't be a surprise to any of us (including our children) that without the new heart Christ gives us, we're lost in a morass of deadly sin. Such was Augustine.
Ms. Murdarasi was not graphic in her description of Augustine's adultery, but she didn't pull any punches, either, by hiding the truth. Because The Truth Seeker is narrative, we see the storyline from the perspective of Augustine himself. This means that it takes a while for us to come to the point where he recognizes his own sexual sin. For that reason, I plan to read this story aloud to my children. That gives me the opportunity to discuss it with them as we read. For me, that's the perfect (natural) way to help develop a biblical worldview — by applying Scripture to real life and history.
All that said, Augustine's conversion is made all the more spectacular because of his affairs and active participation in the cult of Manichaeism. We see a true change in his heart and life as he is called to walk with Christ in a life of self-sacrifice and devotion to God.
I love Christian Focus' Trail Blazers series (and their Torch Bearers series on Christian martyrs).  Currently, the Trail Blazers series has 39 books! That's enough to keep your middle grade child reading great, God-honoring, character-growing material for a long time.
Augustine: The Truth Seeker would coordinate well with studies involving
Ancient History

The Early Church

Manichean Beliefs
The Donatists
The Roman Empire
The Fall of the Roman Empire
You can find Augustine: The Truth Seeker and the other biographies in the Trailblazers biography series for 8-12 year olds at
Amazon:
Christian Book:
Other Christian Focus Trail Blazer & Torchbearer books reviewed on Thinking Kids
More Books for 8-12 Year Olds Reviewed at Thinking Kids
Thinking Kids Book Review Indexes
Thinking Kids Pinterest Book Boards
Join the newsletter
Get the Family Prayer Box Project FREE!
Teach your children to pray with this fun project that includes 7 printable sets!