Welcome! If you're interested in discipling children for Christ, I'd love to have you
subscribe to Thinking Kids
. Also, please
follow me on Pinterest
where I've compiled a library of discipleship and homeschool resources for you. Thinking Kids posts contain affiliate links. You can find out more about those on the
disclosure page
.
We had an advent calendar every year when I was growing up. It was one of those cardboard box kinds you get at the grocery store. We'd stare at the calendar just waiting for the moment after breakfast when we could punch open the little numbered door for the day and consume our little piece of chocolate before heading off to school.
Yes, we were self-controlled enough to make it through our Cheerios before tearing into our advent calendars.
Hey! You can download the Printable Advent Calendar for Kids FREE through Christmas 2017!
Hey again! There's a $200+ Christmas Craft Supply GIVEAWAY in this post!….
Our chocolate-filled Christmas advent calendar was fun, and I enjoyed the countdown to Christmas. But I want Advent to mean something more to my kids.
I want Advent to mean something more to your kids too. I bet you feel the same way.
---
See the whole series here.
---
Advent Readings
For Christians, Advent is a season of expectant waiting while we anticipate celebrating the Incarnation of Christ. Jesus, God the Son, took the form of a servant and was born as a man. He humbled himself in ministry to his own creation, dying for us. God has glorified the Risen Son and one day every knee shall bow and every tongue confess that Jesus Christ is Lord. (Philippians 2:1-11)
WHOA.
Just take that in for a moment. That's amazing.
You and I want our kids to celebrate the Advent season for real. We want them all to understand the wonder of the God who became man and died for their sins. I put together 24 Advent readings for children that will help kids understand:
The Christmas Story
Prophecies Fulfilled by Jesus' Birth
Jesus as God the Son
And I put those readings on a beautiful printable Christmas Advent calendar you can assemble and use to decorate your home. The Advent calendar has a Scandinavian design in honor of my maternal grandparents. God Jul! (That means Merry Christmas in Swedish.) Check it out:
---
Printable Advent Calendar for Kids
You'll find the the download registration for the Printable Advent Calendar for Kids right below this sentence! These labels are FREE to Thinking Kids newsletter subscribers, but ONLY through Christmas 2017.
After Christmas 2017, you can purchase the
Printable Advent Calendar for Kids in the Thinking Kids Press Store
.

I often get asked
how to print Thinking Kids resources
. Here's my very best advice. Take it and adapt it for your own good uses.
Sometimes readers are concerned about using colored ink. If this is the case for you, there should be a setting on your printer that allows you to print in black and white. Printing in grayscale will still use some color, but it will come out prettier than black and white. (The colors on this are so pretty though!)
Print these duplex (double-sided) and have them flip on the long side.
I recommend printing on white cardstock so the banners will be more durable and they'll stand up. This is my very favorite cardstock: Neenah Premium Cardstock.
You'll need to cut the banners out so you can glue them onto your ribbon. I cut around them, leaving a small white margin. I don't suggest trying to cut on the line.
---
Supplies Needed to Make Your Christmas Advent Calendar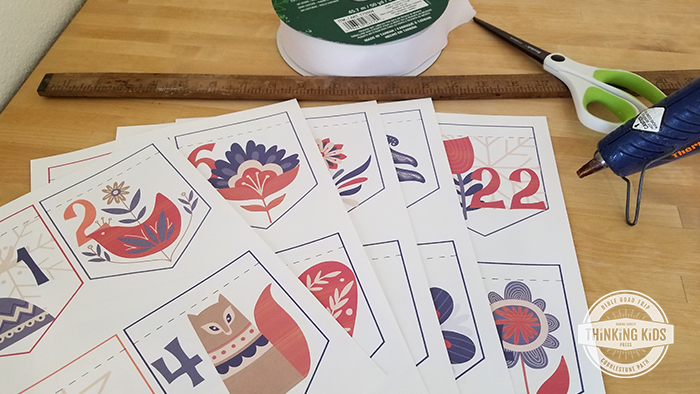 You'll need a few supplies to make your Christmas advent calendar. You may have a few of these items already. If not, these are all fairly inexpensive and will serve you well for multiple projects. Make sure you get ribbon that's 1/2 inch wide! I used 2″ inch wide ribbon, and it was too much fabric into the fold in the banner.
Hot Glue Gun with 25pcs Glue Sticks

Neenah Bright White Card Stock, 65lb

Scotch Precision Ultra Edge Titanium Scissors

2 Roll 1/2 Inch Wide Wire Edge Ribbon

---
Assembling Your Advent Readings for Children
Looking for a fun Bible study to do with your kids over the holidays? Check out The 5 Solas: Signs to Follow on the Narrow Path.
1) Print Your Advent Calendar & Cut Everything Out
Once you've registered for your Printable Advent Calendar for Kids via the form above, you've confirmed your email registration, and you've received the email with your printable, OR you've purchased your
Advent Calendar in the Thinking Kids Press Store
(after Christmas 2017), print your Advent calendar banners on
white cardstock
.
This is a double-sided printable, so you'll want to print it duplex with the fold on the long side.
Note: You'll want to cut out all of your labels in advance. Your older kids can help with this task. If you need more labels, you can just print extra sheets.
2) Measure and Cut Your Ribbon
You'll need 4 yards of ribbon. Add another yard if you want to tie a bow on each side or to have a long tail.
Fold your ribbon in half and tie a small loop so you can attach it to your wall or mantle. Fold each half in half again (subtracting your end trails and bow (if you added ribbon for that). Make a small loop at each quarter length point and at each end. At this point your ribbon will be divided into four equal sections with a decorative tail on each end.
I used small hooks to attach our banner to the mantle through the small loops I tied.
3) Fold Your Advent Calendar Banners
Each Advent calendar banner has a dotted line across the top. Fold the banner on the dotted line away from the decorative side toward the side that has the Advent readings. Do this with each of your 24 banners.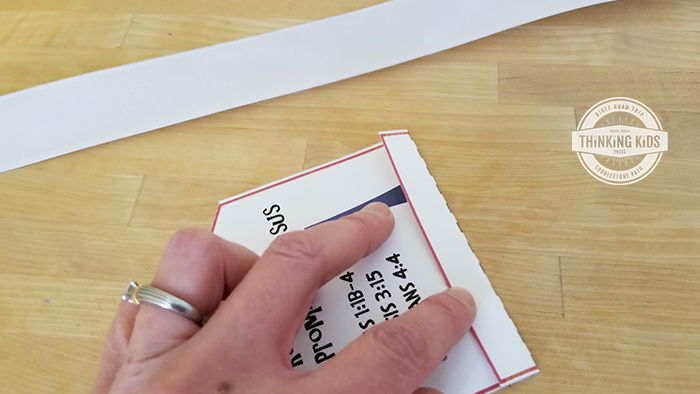 Your ribbon has been divided into four equal sections. Each section will have six Advent calendar banners. Lay out the first 6 banners as shown below and space them evenly. You don't need to measure the space between banners–you can eyeball it.
4) Glue Your Advent Calendar Banners to Your Ribbon
You will use a hot glue gun to attach your banners to your ribbon. This is a job for you, the adult, as the hot glue is really hot and you have to use your fingers. I tried using a table knife to push down the flaps over the glue–it worked reasonably well, so you can do that if you'd like.
I found the process worked best when I glued the ribbon to the cardstock under the flap, then glued the flap over the ribbon onto the cardstock beneath.
Note: I'm using 2-inch wide wire edge ribbon in this picture. I thought it would be prettier for the end pieces, but it was too much fabric for the flap. Use 1/2-inch wide wire edge ribbon instead. Again, be careful gluing your banners to the ribbon. I'm sporting a lovely deep burn across my finger due to my 2-inch ribbon faux pas.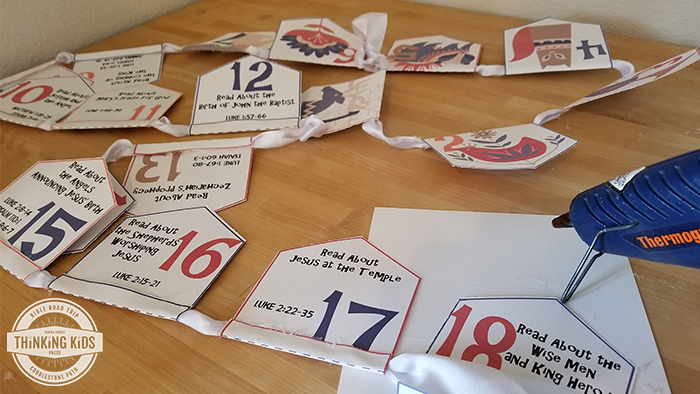 Display Your Christmas Advent Calendar with Your Advent Readings Facing In
Take a picture of your Christmas Advent Calendar and share it on social media with the hashtag #BibleRoadTrip. You can tag me as well! I'd love to reshare it. I'm on Pinterest, Facebook, Twitter, and Instagram. You can also share it in the Bible Crafts for Kids community on Facebook.
Beginning December 1st, turn over one banner a day to reveal that day's Scripture readings. Have your kids help you locate the Scriptures in the Bible. Take turns reading a paragraph each and discuss what you learned about the Incarnation of Christ that day!
I hope your family is blessed by the Advent readings for children. I hope too, that you're blessed by our new Bible Christmas Crafts for Kids series here at Thinking Kids. I have 10 amazing blogger joining us for the next 3 weeks to bring you a series of fun crafts to help your family continue to focus on the birth of Jesus.
AND to kick off the series, I have a great giveaway for you!
---
Giveaway ~ Ends November 29, 2017 ~ Over $200 in Supplies!
This fabulous giveaway contains almost every supply you need to complete each of the eleven crafts in the series. I say almost because I didn't include household basics like aluminum foil and coffee filters. Those items are probably stowed away in your pantry or easily picked up at the dollar store.
The craft items below are fabulous supplies to stock your house or classroom with! You'll get a lot of kid crafting mileage out of these. You can enter the giveaway using the electronic raffle widget below. Each entry point gives you extra "raffle tickets", so the more you enter the better your chances of winning.
You'll want to check Thinking Kids often this season, or join the Bible Crafts for Kids Facebook Group to ensure you see all of the great Christmas crafts for kids.
Hot Glue Gun with 25pcs Glue Sticks

Sharpie Permanent Markers

Neenah Bright White Card Stock, 65lb

Sand Dollars

Foam Sheet

Silver Map Tacks

Elmer's Glue Sticks

1-Hole Punch

Elmer's Washable School Glue

Nylon Hair Brush Set

Watercolor Pan Set, 36 Colors

Watercolor Paper

Krylon Glitter Blast Diamond Dust

Con-Tact Brand Clear Covering Self-Adhesive Film

Christmas Decor Artificial Pine Garlands

Polka Dot Craft Ribbon

Felt Fabric Sheets

Black Glitter Glue

Ornament Balls Red

Construction Paper

Christmas Tree Ornament Hooks

14pcs 8 x 8 inches Cloth

50 Skeins Embroidery Floss and Embroidery Needles

Battery-powered Flameless LED Tealight Candles

Wiggle Eyes Bright Colors

Crayola 8 Pack Fine Line Washable Markers

Mini Flower Pots

Wood Balls, 1-Inch

FolkArt Multi-Surface Paint in Assorted Colors (2 oz), 2912, Daffodil Yellow

Apple Barrel Acrylic Paint in Assorted Colors (2 Ounce), 20504 Black

Westcott Recycled 8-Inch Straight Scissor (16451)

Void where prohibited by law. Must be at least 18 years of age. Open only to entrants in the United States. This giveaway is in no away associated with Facebook, Twitter, Instagram, or Pinterest. No purchase necessary for entry. Odds are determined by the number of entries. Selected winners will have 48 hours to respond to email notification to claim their prizes or another winner will be drawn. All entrants will be subscribed to the series' contributing blog newsletters: Thinking Kids Press, Proverbial Homemaker, Talking Mom2Mom, Adventures in Mommydom, Helping Hand Homeschool, Joy to the Heart, Hubbards Cupboard, Making Her Mama, The Musings of Mum, Keepsake Curriculum, and School with Grace.
Bible Christmas Crafts for Kids Supply Giveaway
Join the Bible Crafts for Kids Facebook community!
---
More Posts You'll Love!
Bible Christmas Crafts for Kids
Printable Advent Calendar for Kids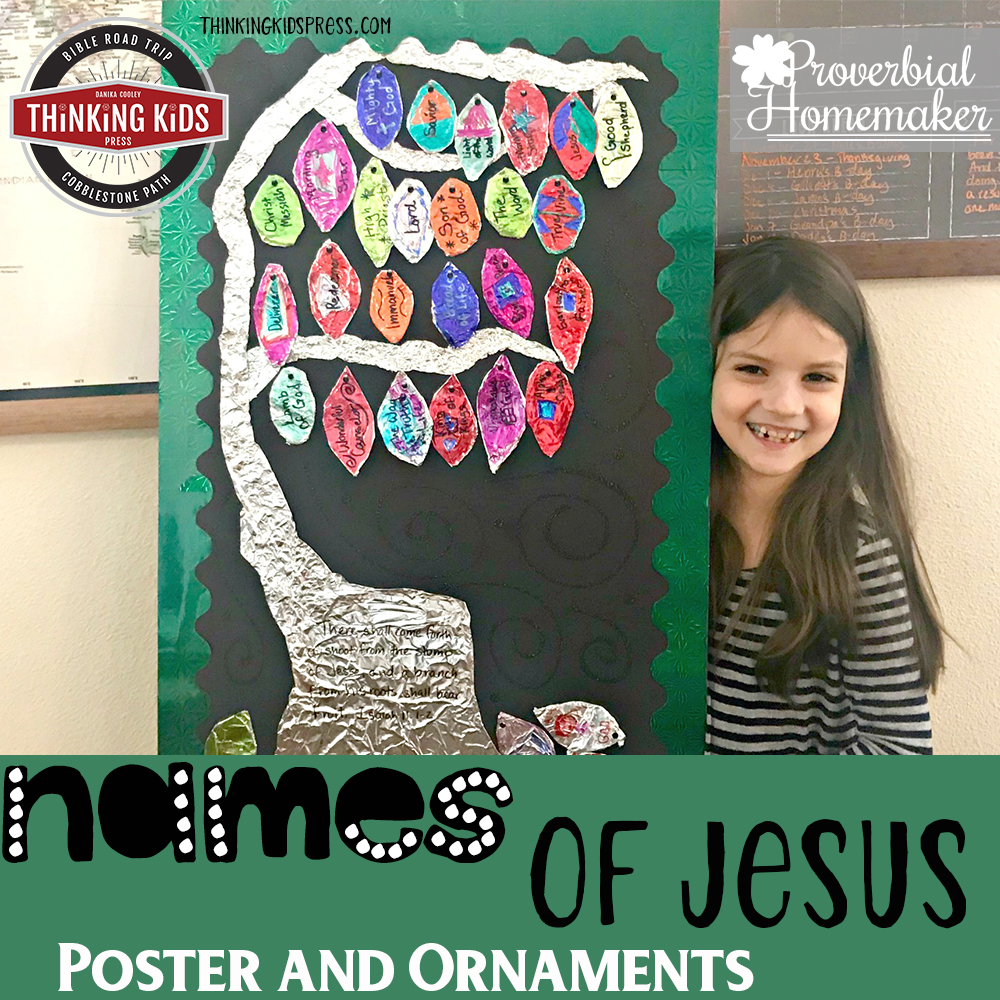 Names of Jesus Poster and Ornaments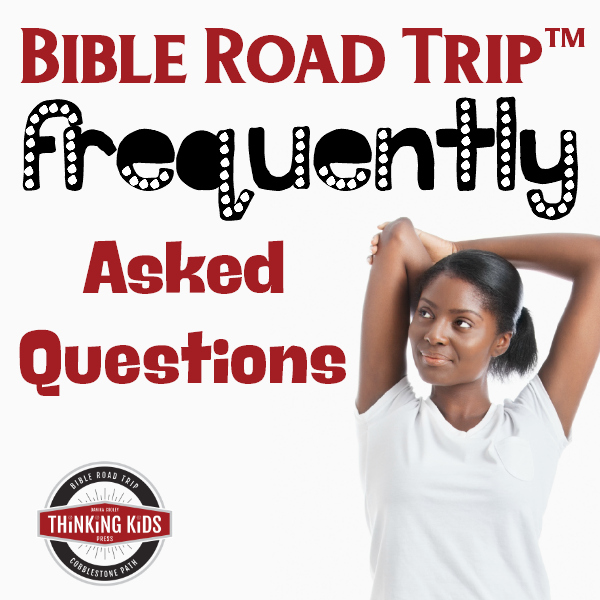 Bible Road Trip™: Frequently Asked Questions
Give Thanks with a Grateful Heart Card Set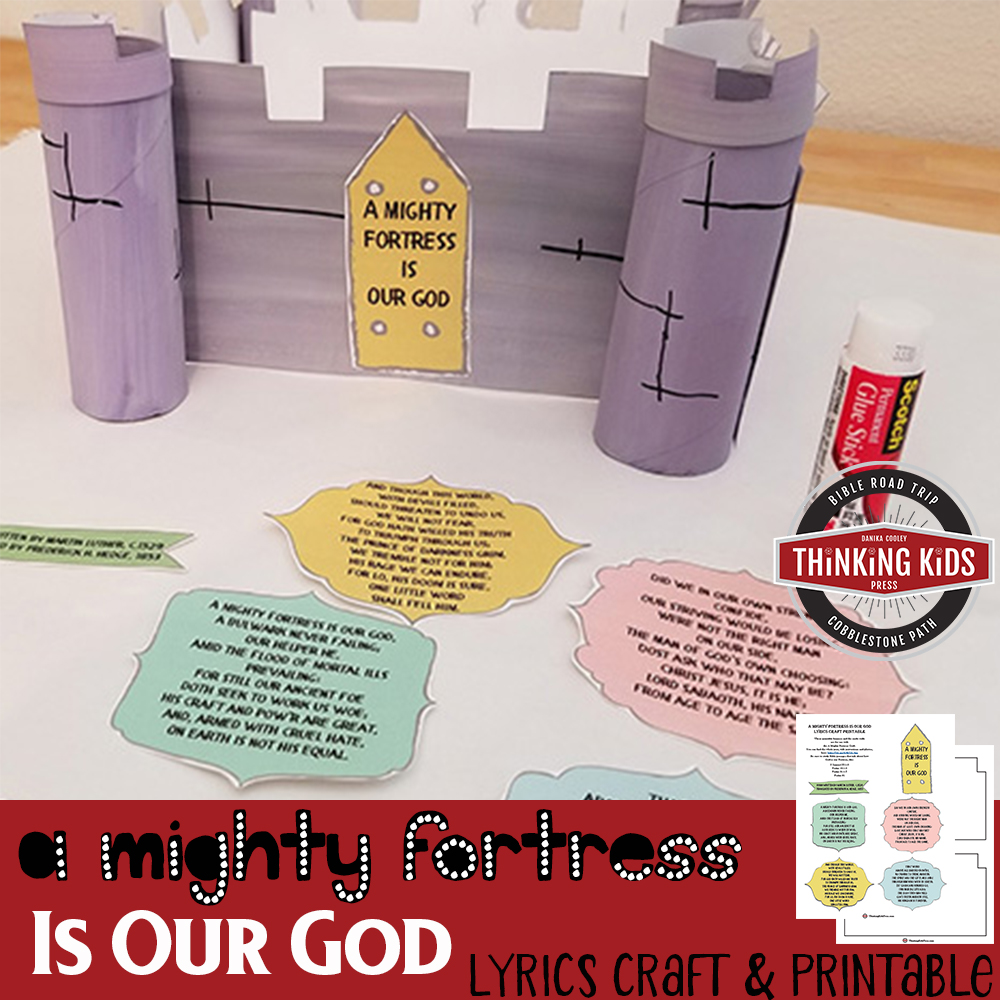 A Mighty Fortress is Our God Lyrics Craft & Printable
Noah's Ark Craft and Printable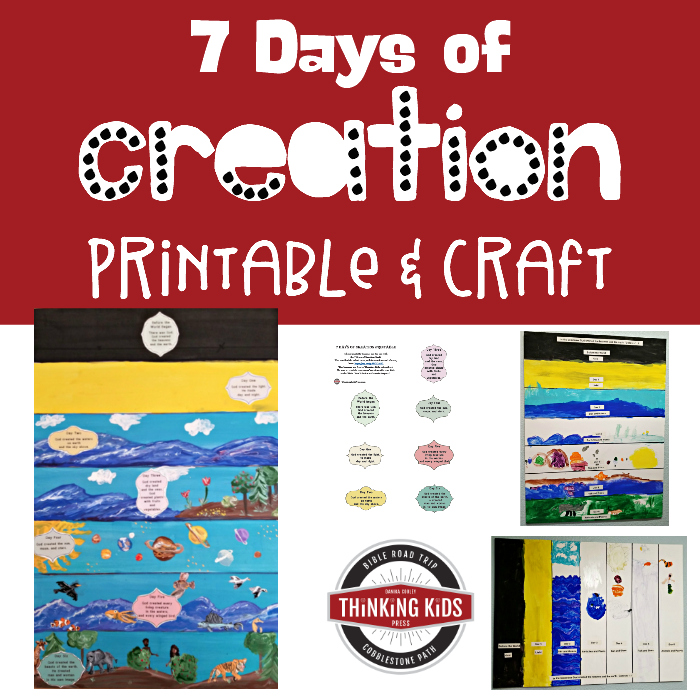 7 Days of Creation Printable & Craft
---
Join the newsletter
Get the Family Prayer Box Project FREE!
Teach your children to pray with this fun project that includes 7 printable sets!
~ Danika Cooley
Danika Cooley is the author of When Lightning Struck! The Story of Martin Luther (Fortress Press, 2015), Wonderfully Made (CF4K, 2016), and Bible Road Trip. Her work has been featured in internationally-recognized children's magazines over 150 times.