Welcome! If you're interested in discipling children for Christ, I'd love to have you
subscribe to Thinking Kids
. Also, please
follow me on Pinterest
where I've compiled a library of discipleship and homeschool resources for you. Thinking Kids posts contain affiliate links. You can find out more about those on the
disclosure page
.
Christmas is such a special time of year. The Incarnation of our Lord is such a wonderful event to celebrate. Gifts don't need to be a part of Christmas, but I
want
to give my children gifts. I want them to know they're loved and cherished. By Jesus–and by me.
I know our family is not alone in experiencing a special kind of financial tension in the winter time. There are plenty of seasonal careers that pay less–or nothing at all–right around the time Christmas rolls around. This year especially, with my husband working over two hours away, a big move and home sale looming, and the monumental surgical injury I sustained the day before Thanksgiving, we find there is literally nothing to give the kids for Christmas. I know the Lord is sovereign in all things, and I don't mourn His timing this year. But the realization that we have nothing to wrap reminded me that there are other families that might be in the same situation. Even if you're at the polar end of the spectrum this Christmas, I have something for you that might just be the icing on the cake (or the topper for the stocking).
Christmas Coupons for Kids
I've made my children packs of coupons for Valentine's Day before, and they have LOVED them. For a child (even for a teen), there's nothing like being able to choose to redeem a coupon for the promise of time or gifts from a parent. I decided this year that I'd make my boys a special pack of Christmas coupons, and that I'd share them with you as well. All you need is a printer, a pen, and paper or cardstock.
These Christmas Coupons make great:
Gifts for your kids ~ Just fill out the stack and wrap them.
Stocking Stuffers
Gifts for nieces and nephews
Gifts for kids in the neighborhood
You'll find the download link for the Christmas Coupons for Kids at the very end. These cards are absolutely free to Thinking Kids subscribers. The images used are pretty traditional for Christmas–candy, snowmen, reindeer, polar bears, ornaments, and snowflakes–and they're in bright, cheerful colors.
Christmas Coupons for Kids
These printable Christmas Coupons have a cover for the top of the stack:
There are 15 coupons to follow the cover, each with a different design. Of course, if you want more coupons you simply need to print more!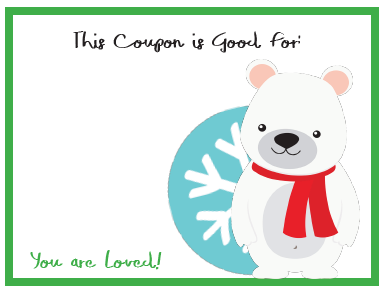 Christmas Coupons for Kids ~ Coupon Ideas
For the coupons, be specific! Tell your kids what you're willing to do, along with limitations if applicable (ie. A $5 book, A trip to the zoo in May). Kids love quality time, physical touch, small gifts, and little acts of service. It's hard to make a coupon for words of affirmation, but if you can think of a way to include that, go for it! I'll list some ideas to get you started.
Make cookies together
A day off school
One trip to the zoo
Your choice of read-aloud
One book–and a trip to the bookstore
Cuddle time with mom
Fishing with dad
A hike
A bike ride
A day trip in the car
A movie, hot chocolate, and popcorn
Your choice of dinner at home
Your choice of restaurant
A science experiment–you pick
A camping trip
Ice skating with a friend
An afternoon playdate
How to Print Christmas Coupons for Kids
I often get asked how to print Thinking Kids resources. Here's my very best advice. Take it and adapt it for your own good uses.
Sometimes readers are concerned about using colored ink. If this is the case for you, there should be a setting on your printer that allows you to print in black and white. Printing in grayscale will still use some color, but it will come out prettier than black and white.
Print these cards single sided on the "best" setting.
Trouble downloading? Check out How To Download Thinking Kids PDFs.
I recommend printing on white cardstock so the cards will be more durable. This is my very favorite cardstock: Neenah Premium Cardstock.
Tie the whole set together with some Christmas ribbon and you're good to go!
Check out this beautiful Prayer Card Set for Moms! Just $5 for the whole set, and it makes a wonderful gift.
More Subscriber Gifts at Thinking Kids
The Christmas Coupons for Kids is a Thinking Kids subscriber gift. When you register to become a Thinking Kids subscriber, you are automatically included on the email newsletter list. You'll get updates on godly parenting resources, homeschool ideas, Christian parenting posts, and you'll have access to the growing list of Thinking Kids freebies including:
Bible Road Trip
~ a 3 year Bible survey curriculum for preschool to high school with coordinating Notebooking Journals! Bible Road Trip is free for download by week, or available for
purchase as a full-year PDF download
.
Prayer Cards for Kids
~ Twelve double-sided cards are a great tool to teach kids to pray for others.
My Sermon Notebooking Journals
~ Two half-sized 119-page notebooking journals to take notes during sermons with a structured format, Bible verses, quotes from historical Christians and fine artwork.
My Book Journey Notebooking Journal
– A 51-page notebooking journal to record books read, including: title, author, page number, theme, plot, and thoughts!
EVEN MORE! Check it all out at the Subscriber Gifts page–right after you download your Christmas Coupons for Kids.
Your Christmas Coupons for Kids download is beneath this graphic!
Download Your Christmas Coupons for Kids
Ok, friends! I promised you Christmas Coupons for Kids, and you shall have them! Just log into your subscriber account, and then click on the link below and print the copies you need. Don't have an account? No problem! You can sign up right here!

Join the newsletter
Get the Family Prayer Box Project FREE!
Teach your children to pray with this fun project that includes 7 printable sets!
~ Danika Cooley
Danika Cooley is the author of When Lightning Struck! The Story of Martin Luther (Fortress Press, 2015), Wonderfully Made (CF4K, 2016), and Bible Road Trip. Her work has been featured in internationally-recognized children's magazines over 150 times.