Welcome! If you're interested in discipling children for Christ, I'd love to have you
subscribe to Thinking Kids
. Also, please
follow me on Pinterest
where I've compiled a library of discipleship and homeschool resources for you. Thinking Kids posts contain affiliate links. You can find out more about those on the
disclosure page
.
I want to thank Master Books for providing me with a copy of the Explore Dinosaur National Monument with Noah Justice DVD in return for my honest review.
A couple of years ago, our family went on an amazing Western State trip, which will probably remain one of the highlights of my life. In seventeen days, we drove through fourteen states, visited ten national parks and monuments, two science museums (one at the La Brea Tar Pits!), a ghost town, Focus on the Family, a wedding, and an emergency room. (With that kind of craziness, you know there's going to be x-rays happening!) My husband and I took turns driving at night and we hiked and explored during the day. It was truly fabulous.
One of the great places we visited was the Dinosaur National Monument. I'd been there right after I graduated from college, and I couldn't wait to show my kids the amazing wall of dinosaur half-excavated dinosaur bones. During my graduation trip, things were a little different for me. I wasn't saved, had decided only two years prior that evolution was unsupported scientifically (oddly enough, I came to that decision in my Physical Anthropology course—a class on evolution), and we didn't take the tour down the path behind the quarry…..
This time through the Monument, things were a little different. I've spent a number of years reading about Creation Science, I firmly believe the biblical accounts of Creation and the flood, and we did spend a good deal of time at the Monument. We took the tour before we went into the quarry, so the boys could see (and touch!) the dinosaur bones sticking out of the tilted sedimentary layers. As we stood between the many hills, touching the femur (I think) of a dinosaur, listening to the guide talk about a regional sea that had flooded and deposited the dinosaur bones, I was overcome with emotion. There is evidence of dinosaur bones in the hills immediately next to the quarry. What if every hill is heaped with the bones of these great beasts? Here is the evidence of the global flood—and I'm touching it.
My husband respectfully asked why the scientists felt the flood was regional, and was met with a sour face and a verbal scoff. Apparently, the guide had encountered that question before. He didn't offer an explanation.
Our family enjoyed experiencing God's handiwork on our trip, and we've enjoyed continuing to learn about Creation Science since we've returned. One of the resources we appreciate is Master Book's Awesome Science series of DVDs.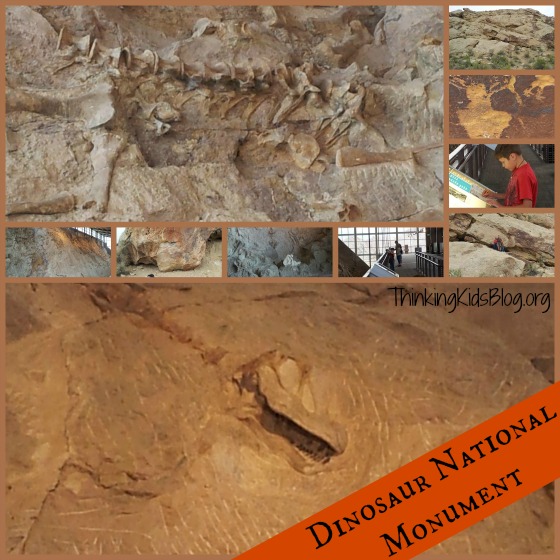 The Amazing Science DVDs are narrated by Noah Justice, who is now sixteen. I think he is around eleven in the first episode. Mr. Justice may be young, but he doesn't dumb down his science. In 30 minutes, he speeds through the history of the Monument, the fossils contained there, and explains the tilted sedimentary layers. He addresses evolutionary theory regarding dinosaurs and discusses scientific issues concerning evolution. Noah Justice talks about mass extinction caused by a global flood and iridium in the KT boundary layer caused by volcanic activity resulting from the flood. (This directly contradicts the idea that the iridium was caused by a massive meteor.)
The narration occurs while scenes of the Monument, scientists working, dinosaurs, and pictures of the Bible play in the background, much like any other documentary. Unlike "adult" documentaries, Noah Justice appears in the forescreen, rather than being just a floating voice. I think this raises the interest level for kids.
There are Bible passages mentioned throughout the video, and Noah Justice often points to the difference between examining evidence with a biblical worldview and a secular worldview. At the end of the video, Mr. Justice talks about several dinosaurs, and explains a scientific theory for their extinction that fits with the biblical account of the flood and a Young Earth scientific view. He explains how recent findings help support this view.
I love the fact that the video ends with a gospel message.
Our boys enjoy the Awesome Science video series, and it was wonderful to see a Creationist explanation of the science behind the site we visited together. I look forward to seeing more work from Noah Justice.
Purchase Awesome Science Episode 9: Explore Dinosaur National Monument with Noah Justice at
Amazon: Explore Dinosaur National Monument with Noah Justice
Christian Book: #9: Explore Dinosaur National Monument With Noah Justice
Purchase Awesome Science DVDs at
Amazon: Awesome Science DVDs
Christian Book: Awesome Science DVDs
More Master Books Reviews at Thinking Kids
More Creation Resources for 8-12 Year Olds Reviewed at Thinking Kids
Or just check out the Thinking Kids book review indexes for:
Thinking Kids Pinterest Book Boards
Join the newsletter
Get the Family Prayer Box Project FREE!
Teach your children to pray with this fun project that includes 7 printable sets!
~ Danika Cooley
Danika Cooley is the author of When Lightning Struck! The Story of Martin Luther (Fortress Press, 2015), Wonderfully Made (CF4K, 2016), and Bible Road Trip. Her work has been featured in internationally-recognized children's magazines over 150 times.